Arizona skipper earns 100th win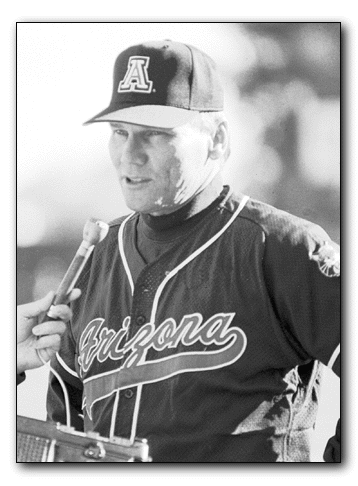 Wildcat File Photo
Arizona Daily Wildcat
Men's baseball head coach Jerry Stitt looks on during a practice last year. Stitt became the fourth coach in UA baseball history to win 100 games in Sunday's victory over St. Mary's (Calif.)
On Sunday afternoon, University of Arizona baseball head coach Jerry Stitt earned his 100th victory as the Arizona head coach.
In his four seasons as the UA skipper, Stitt is 100-73. He became one of four Wildcat coaches to reach the century mark, joining Jerry Kindall, Frank Sancet and "Pop" McKale.
Not that it means much to Stitt.
"A lot of people asked me if I kept the scorecard and ball from the game, but I didn't," he said. "The ball from this game is in the (batting practice) bag, along with the ball from my first win. Those kind of things don't really mean that much to me."
Of his one hundred victories, Stitt listed the 1999 season-ending victory against Arizona State as one of his favorites.
"It was the last game of the series," Stitt said. "It was a pretty good win."
When asked of his least favorite game, Stitt was mum.
"We've had a few games that weren't very pretty," he said. "I try not to think about those."
Following last weekend's series against St. Mary's (Calif), Stitt was disappointed in at least one thing: the lack of fan support, especially from students.