Drunk Rock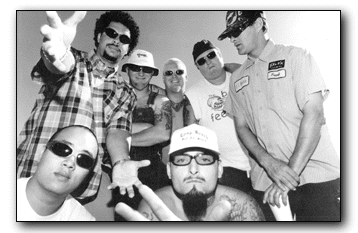 Arizona Daily Wildcat
PHOTO COURTESY OF LONG BEACH DUB ALLSTARS The Long Beach Dub Allstars (right to left) Tim Wu, "Field" Marshal Goodman, Bud Gaugh, Ras-1, Opie Ortiz, Eric Wilson, Jack Maness. The band is currently on tour promoting it's first full length album, Right Back.
Initially created as a tribute band for the late Sublime singer Brad Nowell, the Long Beach Dub All-stars are known for their partying as much as for their laid back, hip-hop and reggae-induced punk rock sound.
With their first full-length album, Right Back, the band continues the same style that helped direct an intense spotlight to the Southern California music scene.
"I'm really stoked," said lead guitarist and vocalist Ras-1, who declined to give his real name, about Right Back. "We're giving something back to the streets where we're from."
Singing tales of poverty, insobriety and a genuine love for their upbringing, the Long Beach Dub All-stars have not strayed far from their roots.
"We want to give it up to guys like Half Pint, HR, Tippa Irie and Dangr (sic) who have helped us along the way," Ras-1 said of the band's major influences.
Still, it is their stage presence that gets much of the attention. Once known for their alcohol-induced on-stage demeanor, Ras-1 said that the band has attempted to make some lifestyle changes to make their performances a little more fan friendly.
"Lately, we stopped getting all screwed up before the show, so the kids can have a good time," he said. "Afterwards, we'll go out for a drink ... maybe smoke a little herb - I guess I can't do that in Arizona though, huh?"
The band was created by former Sublime drummer Eric Wilson and bass player Bud Gaugh, who said the Long Beach Dub All-stars will always revere their days prior to the band's formation, despite its unfortunate cause.
"I've known Bud and Eric from the old Sublime days in 1990," said Ras-1, formerly of Jan Children. "We were in a different band at the time and had a band-to-band relationship. It just grew from there."
He also said the current Long Beach Dub All-stars were equally impressed by Sublime's party antics, both on and off the stage.
"We started going to all the Sublime shows and wreaking havoc all over the place. They were pretty good at fuckin' shit up too, though," laughed Ras-1.
Their intricate tattoo work, a staple in the music scene permeating from Southern California, also played an important role in their lives.
"Me and Opie moved in together and started doing tattoos," he said. "That's where we got to know the guys from Sublime. That's where Brad got his giant Sublime tattoo, and Bud and Eric got some of theirs too."
The band will forever be connected to the much publicized death of Nowell, which Ras-1 surprisingly agreed to discuss.
He said the band will never forget their time with Sublime and Nowell, but it wants to continue the forward movement of Long Beach All-stars. On the back cover of Right Back it includes the statement "enough already," directed at the continuous media attention given to Nowell's death.