Jenna Daniels is getting it done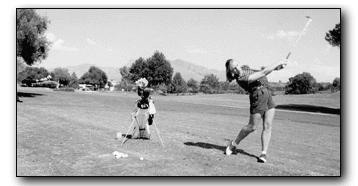 Matt Heistand
Arizona Daily Wildcat
UA golfer senior Jenna Daniels works on her short game earlier this season. Daniels, a two time All-American, is the No. 2 ranked collegiate golfer in nation.
It's 6:30 a.m., and the sun has just risen. For most students, this means it's time to reach for the alarm clock and smack the snooze button.
However, for Jenna Daniels, a two-time All-American for the UA women's golf team, sleeping in is not an option. Daniels heads out each morning for the golf course - not forgetting her tradition of putting 10 tees in her pocket. She constantly strives to perfect each area of her game in order to give her and the team the best opportunity to win an NCAA title.
The charismatic senior is the top golfer on the women's golf team and No. 2 in the nation. Daniels, however, is not concerned with her overall ranking.
"This is a team sport and that is my top priority, so I'm not really concerned about my ranking but rather how my team does as a whole," Daniels said.
Daniels, who is 21 years old, was a first team All-American last season and won the California State Amateur Championship for the second year in a row last summer. Daniels has 10 top-10 finishes in her last 17 tournaments.
She accounts much of her success to Arizona women's golf coach, Todd McCorkle.
"Coach McCorkle is really great in the sense that he knows when to have fun, and he knows when to be serious," Daniels said. "I couldn't ask for a better coach. He is the best golf coach in the country."
Daniels believes one of the key factors to the team's success this season is the quality of the relationships that exist between the players.
"We are all best friends," she said. "We have great team chemistry. Because our team is so close, our chance of winning the NCAA Championship is greater than any team in the nation."
The San Diego native first picked up a golf club when she was 6 years old but didn't start playing seriously until age 12.
"I would go with my dad to the driving range when I was 6 and hit balls," Daniels said.
Besides being in love with golf, Daniels also has a passion for the game of volleyball.
"I played volleyball for four years in high school, and I always love to find time to play it," she said.
Daniels has established three goals for her and the team this season - winning the team national championship, having the lowest scoring average in the country and winning the NCAA individual title.
A key factor to her success during her years at Arizona is the confidence she has for her ability. When asked if she was intimidated by anyone this season, Daniels replied, "No."
Daniels will likely go on and compete at the professional level for many years, but she isn't concerned with going pro right now. An undergraduate degree in education is Daniels' top priority.
"I want to get my college degree first, and then we will see what happens," Daniels said.