Pac-10 gives Wright public reprimand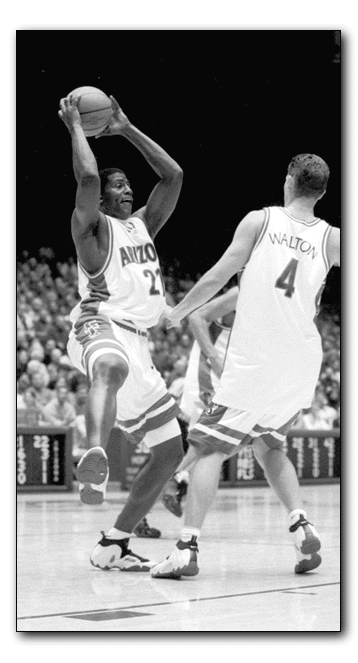 Nicholas Valenzuela
Arizona Daily Wildcat
UA sophomore forward Michael Wright grabs a rebound earlier this season. Wright was reprimanded by the Pacific 10 conference yesterday for elbowing USC forward Abdullah Elmagbari in the head and neck.
UA sophomore forward Michael Wright was issued a public reprimand from the Pacific 10 Conference yesterday regarding an elbow he threw during Saturday night's loss at USC.
Wright threw the "apparent intentional blow" to the face and neck of USC player Abdullah Elmagbari.
Pac-10 Commissioner Tom Hansen put Wright on probation for the remainder of the conference season and issued this statement through a Pac-10 media release.
"Any blow to the head area in athletics competition is a serious matter, and when it is struck away from the ball when a competitor has no reason to expect contact, it has a high chance of causing serious injury," Hansen said. "Had any of the game officials seen the incident, Mr. Wright would have certainly been ejected from the game. Any subsequent incidents of this nature by Mr. Wright during the remainder of the season will result in a substantial penalty."
UA head coach Lute Olson had no complaints or excuses regarding the reprimand on Wright.
"I think it was definitely one that should have been delivered - a reprimand was called for," he said. "It was not as a part of the play and certainly not something that we condone."
Wright will be in the starting lineup when the Wildcats travel up to Tempe tonight to face Arizona State.