Indiana dominates Michigan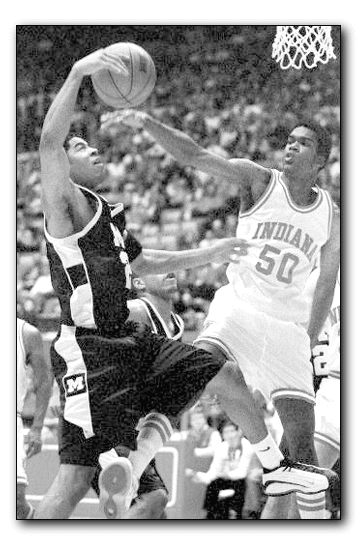 Associated Press
Arizona Daily Wildcat
Michigan's Kevin Gaines, left, and Indiana's Jeffrey Newton (50) fight for a rebound in the first half of the Big Ten matchup in Bloomington, Ind., Tuesday.
Associated Press
BLOOMINGTON, Ind.-Indiana's defense never looked better. Michigan's offense never looked worse.
Kirk Haston had 19 points and 11 rebounds last night, including eight points during a 25-2 first-half run that carried Indiana to an 85-50 victory over the struggling Wolverines.
''We've played on occasion as well as we played and then haven't been able to maintain the advantage that we created. Today we did, and were able to do it the entire ball game,'' Indiana coach Bob Knight said.
Michigan (12-5, 3-3 Big Ten) came in as the best-shooting team in the conference, but with Knight shouting ''Defense!'' from the sideline, the Hoosiers (15-3, 5-2) applied constant pressure that held the Wolverines to a season-low 25 percent from the field.
''It was a defensive-oriented game for us,'' Knight said. ''We worked very hard with our defense the last two days. I told (Michigan coach Brian) Ellerbe after the game what happened here to them happens to everybody. Hell, it's happened to us at Michigan, that things just don't go well for you and the other guy everything on that given night goes really well. So we've had the same thing in reverse happen to us.''
Indiana wasn't much better at the start, but after the first few minutes the Hoosiers began hitting their shots while the Wolverines never recovered.
Ellerbe, whose frustration led to a technical foul early in the second half, said the Wolverines' poor shooting wasn't the entire story, though.
''It was about competing and executing and trying to do the things you practice every day,'' Ellerbe said. ''We got off to a lackluster start ... and from there on it was all downhill.
''I don't think it had anything to do with shooting. When you're playing bad you're going to shoot bad,'' he said. ''So that's a crutch.''
After a three-point play by LaVell Blanchard, who finished with 19 points and 13 rebounds, the Wolverines managed just one field goal over the next nine minutes.
The Hoosiers reeled off 14 straight points, including six by A.J. Guyton and four by Haston. After a basket by Michigan's Peter Vignier, Indiana ran off another 11 straight points for a 39-11 lead.
The Wolverines had made just 3-of-22 shots at that point, and they missed their next nine shots before another three-point play by Blanchard with 2:42 left in the half.
Indiana took a 45-18 lead at halftime and, playing reserves much of the second half, built the margin to 38 points. Guyton finished with 18 points and freshman Jeffrey Newton had 10 points, nine rebounds and four blocked shots.
''When we made mistakes, the first reaction was to try to get a basket to rectify the mistake,'' Ellerbe said. ''Against good teams, you can't do that. You still have to execute and take advantage of defensive lapses and execute your offense and take advantage of what your strengths are, and we didn't do that whenever we had an opportunity.''
Michigan, which has won only two games on the road, started hitting some shots in the second half, but by that time, it didn't matter.
Two 3-point baskets by Guyton and a fast-break dunk by Lynn Washington pushed the Indiana lead to 57-23. The Hoosiers matched their 34-point margin 20 seconds later when Guyton hit two free throws on a technical against Ellerbe, who claimed one of his players had been fouled.
Knight yanked most of his starters midway through the second half, and Indiana took its biggest lead at 76-38 on a 3-point basket by Luke Jimenez with 5:45 to go.
The only other Michigan player in double figures besides Blanchard was Jamal Crawford with 12 points.
The Wolverines' previous low shooting percentage this season was 38 percent at Boston College last month. The previous low for an Indiana opponent was 30 percent by Canisius.