Rodman, Mavericks ponder contract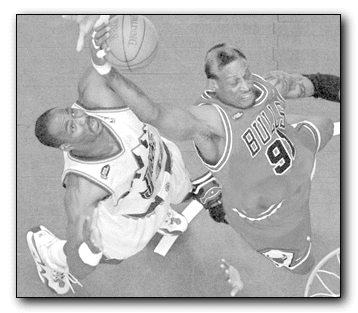 Associated Press
Arizona Daily Wildcat
Dennis Rodman grabs a rebound in the 1998 NBA Finals against Utah. Rodman, a 38 year old forward who has won championships with two teams, is on the verge of signing a short term contract with the Dallas Mavericks.
Associated Press
DALLAS-Dennis the Maverick? Stay tuned.
Dennis Rodman spoke with the Dallas Mavericks again yesterday, just as the team was placing Gary Trent on the injured list. The move opened a roster spot and left Dallas in need of a starting power forward.
''I think everybody is kind of ready for a bit of a gamble,'' coach and general manager Don Nelson said before the Mavericks played the Golden State Warriors. ''If it works out, that'll be fine.''
If a deal is struck, Rodman would get $500,000 for the final 41 games, begining Thursday night at home against the Los Angeles Clippers.
Rodman flew in Monday and met for two hours with Nelson and Mark Cuban, who is buying the team. The flamboyant forward and Internet billionaire continued talking Tuesday to decide whether the two sides made a good fit.
''We had a chance to talk about some issues and see where Dennis is coming from, where his head is,'' Nelson said.
''He looked pretty good to me, although he did have two huge earrings in his nose and one in the bottom of his lip,'' Nelson said, laughing.
The 38-year-old Rodman has played just 23 games the last two seasons. He's made more headlines for his off-court behavior, including scrapes with the law in November and December.
But for all the risk he brings, his rebounding and defense are exactly what the Mavericks need. Dallas averages 8.7 fewer rebounds than opponents, more than double the next-worst average, while allowing a league-worst 103.6 points per game.
Rodman also would give the Mavericks a boost in attendance.
Rodman was a poster child for bad behavior when he was on really good teams, so it would be interesting to see how he would handle being on a losing team.
Dallas, which hasn't won a playoff game since 1988, is 11th among the 14 Western Conference teams and nine games behind Minnesota for a playoff spot.
Rodman grew up in Dallas, but did not play high school basketball. He still has family in the area.
His roots have long made him an intriguing candidate to play for the Mavericks, but the team never seriously pursued him until Cuban began buying the team from Ross Perot Jr. His $260 million purchase is expected to be finalized next month.
Cuban, a longtime Dallas season-ticket holder, personally recruited Rodman. He insisted that Rodman fly to Dallas for a face-to-face interview before he'd agree to a deal.
"We have a very liberal owner who wants excitement and wants to win and doesn't really care about off-the-court kinds of things," Nelson said. "I can go either way."
Nelson said players would welcome Rodman.
''If Dennis can help us win, they're interested, I'm interested,'' he said. ''He's a proven veteran that has won wherever he has been.''
''This squad can handle him,'' Dallas forward Cedric Ceballos said. ''Bring him on.''
Rodman's sincerity was questioned after he said in a television interview that he wanted to attend the Super Bowl and Pro Bowl before returning to the NBA. And, in a Jan. 10 entry in his Internet journal, Rodman wrote: ''For me the important thing is that I really want to play for a team that can go far in the playoffs. I don't know if it's Dallas.''