Award-winning prof teaches the finer points of jazz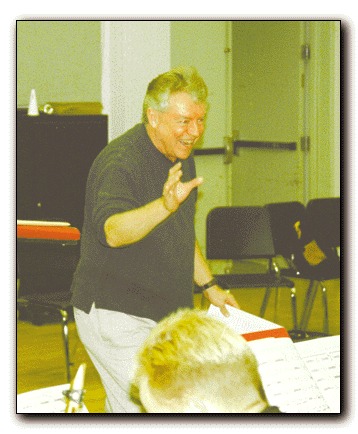 Aaron Farnsworth
Arizona Daily Wildcat
Jazz professor Jeffrey Haskell conducts a practice with his class in the Music building yesterday. Outside of teaching, Haskell composes work that can be heard in big Hollywood films such as the recently released "Dudley Do-Right."
UA professor Jeffrey Haskell's career as a jazz musician, composer and instructor has been diverse, to say the least.
He has performed and conducted music in over 48 states, six Canadian provinces and overseas in places like England and Scotland. Haskell's most recent contribution to the music scene was a cue for the film "Fight Club."
At the age of 16, he started performing as a scat-singing soprano in Philadelphia.
Haskell soon found his calling as a gifted jazz musician after an award-winning performance in the first American Collegiate Jazz Festival. From there he immersed himself in jazz studies, playing with legends like trumpeter Chet Baker and pianist Ray Smythe.
"(They were) a great source of talent and influence," Haskell said.
After graduating, Haskell arranged and conducted music for several famous television shows, including "The Mike Douglas Show."
He received further praise - and a Los Angeles Emmy nomination - for his theme and underscore on the ABC-TV movie "IT."
Despite the musical opportunities that Haskell has been granted, he continues to immerse himself in the world of teaching. Presently, he is a jazz instructor at the University of Arizona.
He describes the teaching process as "fulfilling" and says he continues to teach for enjoyment, and feels he is helping others advance in their careers.
"(Teaching is a) payback to the many people in my youth who helped me to understand jazz," he said. "If students can get something out of some of the things I've learned in my life, it's only fair that I pass on what I've learned in honor of those who taught me."
Currently, he is a senior faculty member in the school of Music and Dance. He is the area coordinator of jazz studies, as well as a member of the Tucson music scene, having written and performed for the Tucson Symphony Orchestra.
He is also co-founder and musical director of the Tucson Jazz Orchestra. His work can be heard locally every half-hour on the four-note station ID for KUAT-TV.
Haskell said teaching is very rewarding because it allows him to meet many gifted young musicians and students at the very beginning of their careers.
In fact, one of Haskell's students became a screenwriter and called on Haskell when he needed a bit of music for one of his films.
Haskell said this collaboration was so enjoyable that he continued to produce music for film and television even after he stopped working with his student.
In between classes, Haskell still finds time to write, conduct and perform music today. Some of his work can be heard on the newly released video "Dudley Do-Right" and soon on the discovery channel.
On Feb. 1, Haskell will speak at the UA faculty community lecture series with "Jazz is Like a Banana: We Eat it on the Spot."
Haskell took the title of the lecture from a sign hung outside the Vingarten Jazz Club in Copenhagen during the 1950s and'60s.
While the club no longer exists, its influence lives on through Haskell's work as a professor. He plans to address the debate of live jazz versus recorded jazz during his lecture and said he hopes to "increase public awareness about jazz."
"(I want to) point out some of the inside - and often lesser known - points about jazz," he said.
The title of the lecture itself is a tribute to one of jazz's early hot spots and a reference to the current state of jazz musicians.
"There are jazz musicians today who don't believe in recording jazz because in the recording process you lose the improvisation of jazz - and recorded jazz is not as good as live jazz," Haskell said.
Jazz is meant to be listened to live, or "eaten on the spot" - like a banana, he said.