Painting the student body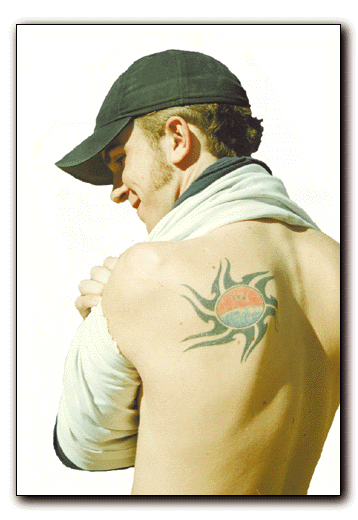 Wildcat File Photo
Arizona Daily Wildcat
Chris Mutter, a physical education sophomore, shows off his tattoo yesterday on the mall. Mutter had the symbol placed on his back two years ago in remembrance of his best friend.
As clothing levels decrease with the recent warm weather, the number of tattoos has increased dramatically on the UA Mall.
Though they have been around for centuries, glances at student bodies demonstrates that a growing number of young people are getting tattoos.
"The university makes up a large populous of our clientele," said Keely Tackett, co-owner of Enchanted Dragon, 2756 N. Campbell Ave.
She said anywhere from 30 to 50 customers come in every day, many of whom are UA students.
Despite the relative youth of these customers, Tackett said they do not jeopardize patrons' health under any circumstances. No one under the influence of drugs or alcohol, or anyone under the age of 18 can get a tattoo without a parent or guardian present.
"We're really serious about what we do," said Tackett, who has been a tattoo artist for 19 years.
Although Enchanted Dragon's wide array of pre-drawn tattoos, the artists also specialize in customized tattoos.
"People's visions come in me and through me. I get to breathe life into it for them," Tackett said.
Another popular parlor is Tattoo Artistry, 1072 N. Warren Ave., where artist Sam Connelly does mostly custom designs.
"When I do a tattoo, I look at the person's body shape, and I form it to their style. I try to find out their interests and brainstorm designs with them," he said.
According to artists at both shops, male and female students are getting Japanese kanji letters and tribal designs done in discreet places, but there are some more gender-based designs.
"They want them small so they can still get jobs," said Tackett. "The girls get butterflies, ladybugs and fairies on their feet, ankles and pelvic area. Guys usually get dragons or eagles on their feet and shoulders."
Kirstin Baerman, an English and creative writing senior has two tattoos; one with her initials on her back and a yin yang on her buttocks.
"It's something to do," she said. "Friends see their friends do it."
Tackett agreed, and noted the sense of nostalgia that accompanies getting a tattoo.
"Doing it pinpoints a time in their lives. And when you're older, you reflect back to that time," she said. "A whole different generation of people are looking at getting tattoos."
However, this new acceptance of tattoos in society is a far cry from their status in previous centuries.
"Up until the contemporary era, tattooing was associated with criminality, moral deficiencies and people of mixed races in the West," said Ana Ortiz, an assistant anthropology professor.
Cultures as diverse as the Ainu of northern Japan and several Pacific Islander groups have incorporated tattoos as rites of passage and works of art.
Their designs and meanings have changed greatly, even over the last century.
Just a few decades ago, tattoos were associated with military men or ex-convicts. Now, many more people have tattoos, and the previous stigmas seem to have disappeared.
"(Tattoos) were used by people to embody the norm of a social group. At this moment tattoos express individuality. People try not to copy everyone else's designs. It's very American," Ortiz said.
Athletes and fraternity members frequently use tattoos as a form of building unity and sharing memories.
Anthony Thomas plays defensive tackle and the tattoo on his right arm reflects his position.
"It says 'Train.' I got it when I was 14," he said. "I take pride in my nickname, it's meaningful and it's how everyone knows me."
In the greek system, tattooing is popular as a form of demonstrating brotherhood and pride in one's particular organization.
"Most of the people who get greek letters tattooed on them are usually guys who are just initiated and are fired up about being in the fraternity," said Scott Colon, Delta Chi president and communication sophomore.
"It is usually something younger guys do because of that rush of adrenaline after initiating," he said.
Chris Mutter, physical education sophomore, agreed that the thrill drives some to get tattoos.
"It's an adrenaline rush. It hurts, but you get addicted to them," he said.
Despite all the trends, some felt getting a tattoo now might turn out to be a bad decision later.
"I don't want to look at it when I'm old," said Melissa Gottsleben, general biology senior.