Cryogenics manager makes cool living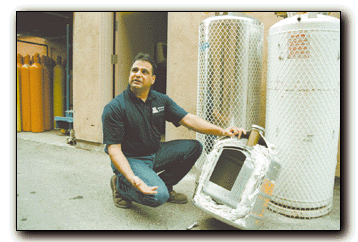 Aaron Farnsworth
Arizona Daily Wildcat
Cryogenics lab manager Chris Redondo points out the many layers of a container used for transporting hazardous liquids. The lab offers several types of chemicals in liquid and gas form to many research labs across campus and Tucson.
Often, when one thinks of cryogenics, images of human popsicles, heads in the deep freeze and the name Walt Disney come to mind.
"That's what we get all the time - where are the heads kept?" University of Arizona cryogenics lab manager Chris Redondo said. "You know, we don't do that."
Now 35, this Tucson native has worked at the lab for the past 11 years - a vast transition from his last job.
"I was a construction mason," Redondo said. "The company busted, I applied at the U of A and that's how I got hired."
He started off in the lab, located inconspicuously at the bottom of Physical and Atmospheric Sciences, making deliveries.
Over time, he learned how to repair and operate just about every piece of machinery, making Redondo an extremely valuable employee as some of the machinery is old and can be as costly as $500,000 dollars. At that price, repairs or replacements would not come cheap.
As such, Redondo has often had to travel for equipment.
"I've been to Denver (and) Cincinnati," he said. "This job has taken me to different places to pick up equipment, be it for our (cryogenics) group or a researcher."
Equipment problems must be fixed quickly, as the cryogenics lab is a vital part of scientific endeavors on campus.
"Anybody that's a researcher that needs any type of gas, comes to us and we deliver it to them," Redondo said.
Liquefied versions of helium, nitrogen, carbon dioxide and argon are produced and stored at the lab and used for various applications. Liquid nitrogen, the most common export of the cryogenics lab, is used to preserve cells of living tissue for cancer research.
The hottest thing in campus cryogenics today (pun notwithstanding) is the use of liquid nitrogen to store "cord blood" - the blood taken from the umbilical cord at birth.
Later down the road of life, if a person were to develop a blood disorder like leukemia the stored cells from that person's own cord can be used to assist in the healing process.
Besides the noble, lifesaving uses of this, there are some seemingly boring uses for the gas - like welding. When liquefied, argon can be used to shield metal from oxygen, creating a cleaner weld. This works because argon, a noble gas, is inert. The gas is like a wallflower at a dance party, not interacting with the more sociable, uninhibited, probably drunk-off-their-asses gases.
They also give free liquid gas to high schools for science experiments.
When Redondo isn't assisting in the creation of a frigid spot in the searing hell that is commonly associated with Tucson, he is a humble student, taking classes towards a business administration degree.
Despite his academic pursuits, Redondo is not leaving the lab anytime soon. He appreciates the opportunities that the cryogenics lab has presented him.
"I've got to do stuff I would've never done," he said. "It's really neat, it's really worked out ."
Redondo fittingly sums up his job in one word.
"Cool, it's really cool man."