Mr. Duncan goes yard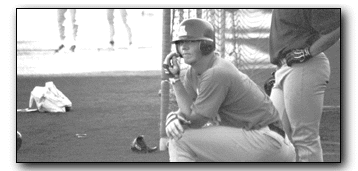 Arizona Daily Wildcat
Photo by: Matthew Capowski
UA sophomore right fielder Shelly Duncan watches batting practice earlier this season. Duncan opened the season homering in his first two at bats.
To hear Shelly Duncan tell it, playing baseball is the easiest thing to do on earth.
The sophomore right fielder, and son of St. Louis Cardinal pitching coach Dave Duncan, has started the 2000 season much as he started the 1999 season: with home runs. In his first game as a sophomore, the right-handed slugger homered twice and drove in seven runs in the three-game series against St. Mary's (Calif.). Coupled with his opening-day effort from the 1999 season, Duncan has four home runs and 10 RBI.
Simply, Shelly Duncan can hit the ball. His secret is an easy one.
"You can't hit the ball if you can't see the ball," he said. "See the ball, hit the ball. It's pretty easy. At least I think it's easy."
Duncan, who hails from Tucson's Canyon del Oro High School, passed on a near-certain future in the majors to attend UA. He notes a lifelong dream as his motivation to stay in school.
"My dream, since I was a kid, has been to make it to the College World Series," Duncan said. "I wanted to go to college more than I wanted to go to the pros. I knew that I would have a chance to succeed in college. I told the scouts I wanted to go to school."
So Duncan stayed local, committing to a school that finished the 1998 season fourth in the Pacific 10 Conference.
"I saw that they had (first baseman Ernie) Durazo, Kenny Huff, and (pitcher Ben) Diggins," Duncan said. "I knew we could do something out here."
Perhaps one of the reasons Duncan is such a good hitter is that it is in his blood. His father, Dave Duncan, was a catcher in the majors before becoming a pitching coach for the Oakland Athletics and, more recently, the Cardinals.
To the younger Duncan, having a father in the majors was a blessing in disguise.
"It's awesome," he said. "I get to do stuff that not many other kids get to do. Any spare time that I have, I spend with my dad."
Shelly Duncan found himself with a seat in the dugout for Mark McGwire's 61st home run in the 1998 season. The hit tied a major league record set by Roger Maris in 1961.
"Being in the dugout for that was awesome," Duncan said. "He gave me a high five!"
Aside from baseball, Duncan enjoys spending time with his brother, Chris, whom he admires. Chris Duncan orally committed to UA last season before shirking college for the draft. He was taken in the first round of the 1999 draft by the Cardinals.
"I admire my brother most," Duncan said. "Going pro was good for him. He's not really into the whole waking up early thing. He fits in better playing baseball full time."
Chris Duncan, also an outfielder, had wowed scouts with his talents.
"He's left-handed and a great outfielder," Shelly said. "He's got more tools than I do."
As for idols, Duncan is a huge McGwire fan.
"I love Mark McGwire," he said. "That guy's awesome."
A high five must go a long way.