Eddie House frustrated by freshman guard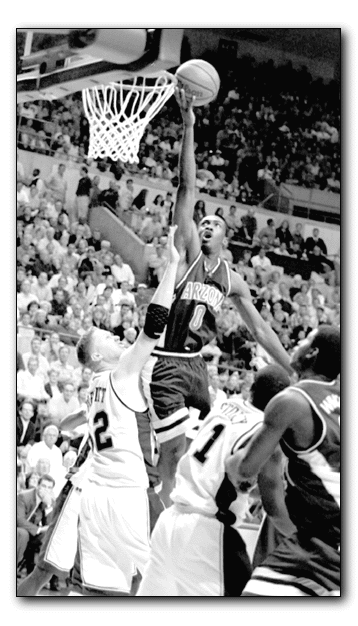 Matt Heistand
Arizona Daily Wildcat
Arizona Wildcats freshman guard Gilbert Arenas lays in two of his game-high 24 points in the UA's 82-55 trouncing of Arizona State. Arenas also guarded ASU star Eddie House for most of the contest, holding him to just eight points on 4-for-14 shooting.
TEMPE-He took it down the court, putting the ball between his legs a few times, picked up his dribble at the three-point arc and launched a sweep jumper over the defender.
Swish.
That was not Arizona State's senior guard Eddie House stroking the jumper over a UA freshman guard, it was Gilbert Arenas hitting the shot as if to say to House, 'who is the freshman now?'
"I was open so I just shot the ball," Arenas said with a grin on his face.
Arenas and the rest of his teammates were doing a lot of grinning last night as they handed Arizona State an embarrassing 82-55 loss on its home court of Wells Fargo Arena.
It was the job of Arenas and his best friend and fellow freshman backcourt mate Jason Gardner to control the explosive House with a box and one defense.
UA head coach Lute Olson was preaching that if House gets 30 points, his percentage better be very low.
Arenas and Gardner were thinking a bit differently than Olson, though, as they held House to just eight points on 4-for-14 shooting. He was 0-for-6 from three-point land and never got to the free throw line due to Gardner having only one foul and Arenas having none.
"I was watching him during warm-ups and he was shooting great. I was like man, if he comes and hits 60 points on me I'm gonna be furious," Arenas said. "When we started play he was just running around and I was like, 'oh man, 40 minutes, and he isn't going to stop running,, so I was like I might as well just run with him. It was just hard for him to score because we did what coach said. He started talking a little trash, but it was alright. Mostly talking to Jason, not to me."
ASU head coach Rob Evans had seen enough with about seven minutes remaining and pulled House out of the game in favor of junior guard Alton Mason.
"I sucked tonight," House said. "In every aspect of the word, I sucked. I sucked offensively, I sucked defensively. I think I didn,t give the team anything in any way."
Adding to the impressive defense from the guards was an unexpected offensive explosion by Arenas, who finished the game with 24 points on 10-for-13 shooting and 2-for-3 from three-point range, which is a far cry from the 1-for-7 he had at USC.
"Earlier today when we were getting ready to go I had one pair of socks on, and I was like, 'I'm going to put my second pair on just for offense-just in case'," Arenas said. "I put both pairs on and went out there played."
Arenas was also able to crash the glass and pull down a team-high eight rebounds.
Gardner only took eight shots, but hit five of them en route to his 16 points. He also added seven assists and four rebounds.
"Gilbert and Jason just did a great job on Eddie House and that kind of sparked us," junior center Loren Woods said. "They tried to play the same defense like USC played, just pack it in. But Jason and Gilbert just killed them from the outside. I don't think we are going to see a defense like that again."