RHA officers quit amid accusations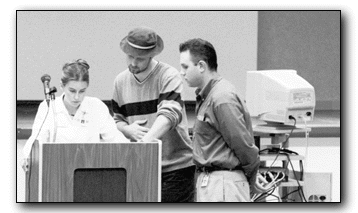 Arizona Daily Wildcat
Photo by: AMY WINKLER
Acting RHA President Laura Winsky, economics junior Adam Lawson and acting Vice President of Campus Affairs Aaron Moore review a copy of the RHA constitution to clarify voting procedures last night at a meeting. During the meeting two officers resigned from the executive board causing confusion as to the steps RHA must take next.
The president and vice president of the University of Arizona's Residence Hall Association resigned from their positions last night, saying they would rather step down than defend themselves against corruption charges they insist are untrue.
Former RHA president Rebecca Zilm opened the meeting by removing herself from her office.
"It is with a heavy heart that I stand before you today and resign my position as president of the Resident Hall Association, effective immediately," said Zilm, her voice quivering slightly before about 100 people.
Earlier this week, a committee of other RHA members accused members of the executive board - including Zilm and two others - of misappropriation of funds and various forms of misconduct, including tampering with other members' e-mail accounts, underage drinking in the dorms and sex in the RHA office.
Zilm declared herself innocent of all accusations, but said she did not want to continue with an organization where members must contend with "deceit and personal vendettas."
"I am not giving in, and there are no winners or losers," Zilm said. "This isn't a decision to give up my job but to give up my way of life, and it is not something that I do lightly."
Audra Shattuck, former vice president of services, resigned for reasons similar to Zilm's.
"I cannot, and will not, defend myself against these allegations any further, and I feel that this would only become more painful and insulting if I were to do so - for myself and everyone else involved," Shattuck read from a prepared statement.
Shattuck thanked friends who had supported her during her years with RHA, but said it was time for her to move on.
"I love this organization, but it is time to let go," said Shattuck.
The position of president is being temporarily held by Laura Winsky, former vice president of campus affairs and one of the RHA members who first leveled the charges.
"I am not often left surprised, but I am right now," said Winsky, after being given presidential duties. She said she was not expecting the resignations.
Despite being members of the accusing committee, Winsky and former vice president of programming Aaron Moore - who is acting as vice president of campus affairs - said they wanted to put the allegations in the past and move RHA forward as a whole organization.
As executive board members as well, Winsky and Moore did not include themselves in the corruption accusations. Though the charges were not aimed at specific individuals, Zilm, Shattuck and finance director Kathleen Rapp are the executive board members who were accused.
Cory Shapiro, national communications coordinator, was the only executive board member untouched by the controversy.
Winsky said she and the accused members are "trying to remain professional."
The proposal to elect an entirely new executive board by Feb. 10 - brought up in conjunction with the corruption charges at last week's meeting - was not an attempt to remove corrupt officials, but to get incoming officers acquainted with their positions several months prior to the new school year, said Winsky.
The proposal passed, 32-2.
Elections will be held at the Feb. 10 meeting, and the new members will be sworn in on Feb. 17. At that point, Winsky said she would no longer be an officer in RHA.
"The general body is now empowered and I look forward to an organization that represents the residents," she said.
As the hour and 15 minute meeting concluded, Winsky set the course for a new era in RHA.
"We did an amazing thing here tonight, and I just want to welcome everyone to the new Residence Hall Association," Winsky said to a round of applause.