Resource center gets 'jack of all trades'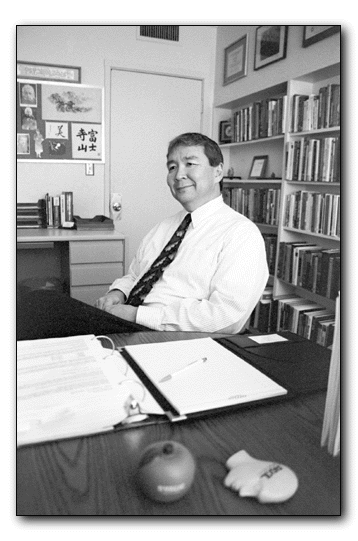 Aaron Farnsworth
Arizona Daily Wildcat
Newly appointed Asian Pacific American Studies Center director Fuji Collins discusses his plans for the department. Collins' resume up to this point reads like a Hollywood film script: military officer, psychology professor and hostage negotiator.
Fuji Collins has jumped from airplanes more than 100 times, been a state trooper, participated in hostage negotiations and has worked with every classification of university-level students.
Collins also has interests in photography and conceptional models of bi-racial development, but as the new director of the UA Asian Pacific American Resource Center, he said he is most enthusiastic about students.
"I love the university environment and working with students, and coming here gives me a bigger and more exciting place to come to," Collins said, referring to his transition from Central Washington University to the University of Arizona.
The student population at CWU - in Ellensburg, Wash. - is 8,500, while UA's is about 35,000 - an obvious and predominant difference, Collins said. He added that a larger student population opens more doors of networking opportunity.
"As a professor, we have to do a lot of things like advising and engaging students," he said. "I went into academia to give back to the students because I want to be that role model that I never had by giving the students the support and leadership skills."
Though born in Japan, Collins - who is of Japanese and Irish heritage - moved to the San Francisco area with his parents after the age of 12.
"He's a very comical character, so he's very easy going and he jokes around allot," said Mai Luc, interim coordinator of the center. "It's so nice to have a supervisor that isn't serious all the time."
Collins' list of qualifications date back to 1977, when he graduated from Arizona State University with a bachelor's degree in psychology. He later earned his master's degree in counseling and guidance from Fielding Institute in Santa Barbara, Calif., and his doctorate in clinical psychology from Eastern Washington University in Cheney, Wash.
Stephen Kentling, a biochemistry junior, said although Collins has many qualifications, he is warm and welcoming to students and not pretentious about his successes.
"He's one of those directors with all kinds of titles but he just likes to be called by his first name," said Kentling, adding that he was impressed that Collins had attended each of the center's club meetings.
"He's very interactive with all the students, not like other directors who are unapproachable, because he always has his door open and lets people know he wants you to come talk to him," Kentling said.
Haegyung Cho, a molecular biology and political science sophomore, said she was also impressed with Collins' interaction as well as his qualifications and openness.
"We did a nationwide search for a director (in March), and he was really open and knew how to develop a commission of students," said Cho, who participated in the search as a member of the center's board.
"He provides a unique perspective because he is a psychologist, and during interviews and interacting with students, he cracks a lot of jokes," she said.
"He's not a big predominant guy who is going to come in and change everything because he is more inquisitive, and he isn't overbearing with his suggestions," she said.
Collins said he feels very confident that he will be able to make a positive connection with the students and faculty on campus and hopes to utilize his efforts towards a cause of a great unity between faculty and students' social and professional growth.
"I am proud of many things, but I am really proud of the impact I've had on students as an advisor and a professor," Collins said.
"I grew up in a society that was very collectivist, for example, we made an accomplishment - we need groups and we need to be together."