Barf Bags in demand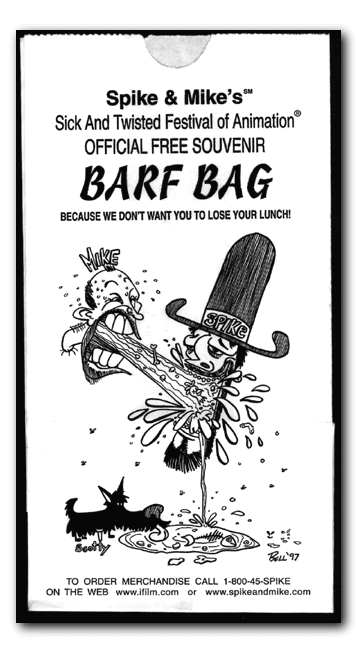 Arizona Daily Wildcat
barf-bag courtesy of Spike and Mike's Sick and Twisted Festival of Animation A souvenir from Spike and Mike's Sick and Twisted Festival of Animation.
The onslaught of January means a time to witness bones snap like celery and human entrails spill like a Picasso masterpiece.
Yes, Spike and Mike's Sick and Twisted Festival of Animation is back in town.
Sick and Twisted was started in 1990 by Craig "Spike" Decker and Mike Gribble, to show animation too tasteless and disgusting for their more reputable Festival of Animation.
Over the years, Sick and Twisted has become a magnet for those with a skewed sense of humor or those who want a diversion from network television banality.
The show has found a strong nation-wide fan base, especially at the University of Arizona .
"This is my fourth time," said Steve Fesch, a UA alum. "It's always fun to come here."
Before the show, three-foot-wide balloons are thrown into the crowd and smacked around in a slow-motion volleyball match.
Then, the emcee licks some young lady's feet (a volunteer from the audience), and after that the show starts.
New this year is a special introduction by "Spike" himself - staggering drunk through the desert with a shotgun, blowing up things.
Then there are the cartoons.
There are a few sequels to past favorites, "No Neck Joe III," "Swing Sluts" (the sequel to "Hut Sluts") and "Beyond Grampa II."
There are also some new cartoons like "Bowlin' Fer Souls," "Die Hard in Under Two Minutes" and "Billy's Balloon," a short that got into the Cannes International Film Festival.
There are some repeat shorts, such as "Dirty Birdy" and "Baby's New Formula," and some repeat artists, such as Bill Plympton.
Comparing last year's Sick and Twisted show to this year's show is like comparing plain-old wheat to a Frosted-Mini Wheat.
Last year was the wheat - nourishing, but bland.
This year is the Frosted Mini-Wheat.
The sugary bit is the first half of the show - jam-packed with enough high-quality, degenerate cartoons to keep one in infected stitches. The unfrosted side, the second half, is where the show lapses into a coma.
One might be tempted to use the souvenir barf-bag as an eyeshade to get some sleep.
For the die-hards who manage to stay awake to the bitter end, there is a presentation of "Quiet, Please," a cartoon which is sure to shock even the most degenerate of individuals.
Overall, this year's Sick and Twisted is still worth the watch, and as the flyer states, "Spike and Mike's present the only festival of it's kind in the world!"