UA holds on to beat ASU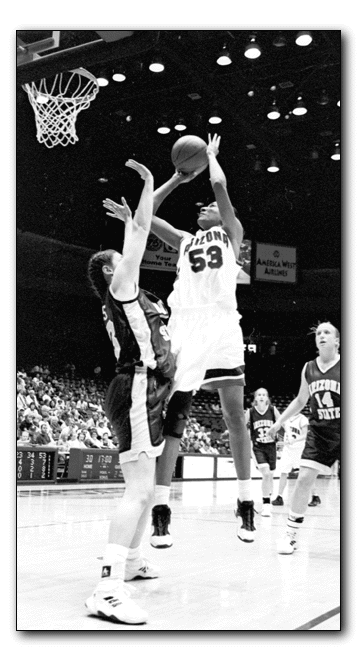 Aaron Farnsworth
Arizona Daily Wildcat
Senior forward Tatum Brown elevates herself above a Sun Devil defender yesterday, during the team's 60-58 victory over ASU at McKale Center. Brown's 18 points and 13 rebounds paced the Wildcats, which upped the team's Pac-10 record to 5-2.
With help from senior forward Tatum Brown, who notched a double-double in her first outing against rival Arizona State, the University of Arizona women's basketball team downed the Sun Devils 60-58 yesterday.
Brown, who became ineligible halfway through last season and didn't face ASU in 1998-99, scored 18 points and pulled down 13 rebounds in her first game against the Wildcats' intra-state rivals.
"I've heard so much about the rivalry, and I was just really excited to get out and play," Brown said. "I didn't want to get overexcited and turn the ball over a lot. I tried to ignore the hoopla about the rivalry and just wanted to go out and play my game."
Though the Wildcats (16-3 overall, 5-2 Pacific 10 Conference) have been unsuccessful in close games thus far this year - losing all three games decided by less than ten points - the team broke the streak yesterday.
UA led 60-54 with 1:12 remaining in the game, but ASU (11-6, 4-3) made a run after a technical foul was called on Brown for a scuffle under the hoop.
"I shot the ball, and it went in and I didn't want it to hit me in the head, so I had my arms up," Brown said.
"As I was going forward, the (ASU player) was coming in trying to grab the ball and get in out of bounds as fast as she could. I think we got tangled up one time before that, and I explained it to (the referee), and she said that she didn't really see it and had to call something."
Brown said she didn't understand the referee's decision, but wouldn't be too upset about it as long as it didn't cost her team the game.
ASU forward Kristine Sand then made one of two free throws and hit a three-pointer to pull the Sun Devils to within two points.
Arizona was unable to score on the following possession, giving the ball to ASU with under 10 seconds remaining.
The Sun Devils, without a time-out, put the ball in the hands of senior guard Kitch Kitchen, who took the ball up the court, only to miss a shot while being called for a charge on UA senior guard Felecity Willis.
UA head coach Joan Bonvicini said that the charge was the play of the game for Arizona and was vintage Willis basketball.
"When (Felecity) was in high school, her coach used to give her five dollars for every time she took a charge," Bonvicini said. "She's taken so many (charges) that it's incredible, but that just changed to a whole ball game."
Arizona was given possession and ran out the final 0.7 seconds for the win.
The Wildcats went into half-time down 29-27 after shooting 8-for-29 from the field and being outrebounded 22-19.
Coaches and players agreed that the team came together in the second half.
"(ASU) was playing great defense as well, so we just told ourselves to take our time and chip away (at their lead)," Brown said. "They were up at one point, and we just told ourselves to not get frustrated. I think this shows us that if we keep our poise, we can always come back and win it."
Bonvicini agreed and pointed out that they may not have won the game had it not been for the play of Brown in the second half.
"Tatum Brown had the intensity at both ends in refusing to lose, and her tenacity defensively and rebounding," she said. "She didn't finish really well in the first half, and in the second half, she did a much better job."
Leading the way for the Sun Devils was Sand, who made 9-of-12, including 4-of-5 from behind the three-point line to finish with 25 points.
Sand made up for sophomore forward Theresa Jantzen, the team's leading scorer, who picked up four fouls in the first half.
Janzten's early foul trouble limited her to only three points and two rebounds in 13 minutes of play.
The win for the Wildcats marked the 150th victory for Bonvicini at Arizona and her 475th overall.
"I have been around for a while, so of course I have won some games and have been around a lot of good players," she said. "But I think the thing that makes it important is that it comes against ASU. That's what I remember."