Whipped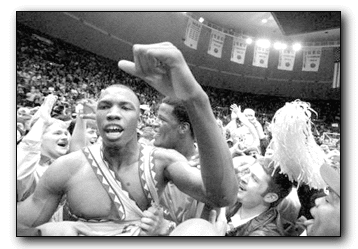 Associated Press
Arizona Daily Wildcat
LSU's Stromile Swift pumps his fist as he and teammate Jabari Smith, rear, make their way off the arena floor after LSU's 86-60 upset of fourth-ranked Arizona on Saturday in Baton Rouge, La. Swift scored 29 points in the win.
Associated Press
BATON ROUGE, La.-Stromile Swift hadn't had that much fun since he was the most dominating schoolboy in Louisiana basketball.
Swift, a sophomore, showing the game that made him "Mr. Basketball" in the state during his high school career, had 29 points and nine rebounds Saturday, as LSU trounced No. 5 Arizona 86-60.
"I can't explain how much fun this was," Swift said. "I can't tell you what a thrill it was to see the fans get so worked up and watch the scoreboard."
The victory, LSU's second over a ranked team this season, sent the capacity crowd onto the court chanting, "LSU! LSU!" Tiger players jumped onto courtside reporters' and officials' desks, dancing and leading the cheers.
The 26-point defeat was the worst loss for coach Lute Olson in his 17 years at Arizona, topping a 25-point loss to Utah in the NCAA tournament in 1998.
"They beat us every way you can," Olson said. "They played harder collectively. Their inside people were just too much for our inside people. They got offensive rebounds and dunked them, and we got offensive rebounds and got them blocked. Stromile was a totally dominant player on the court and Jabari Smith played very well, too."
LSU (16-3) opened the season with 13 straight