Wildcats take 2 of 3 from San Francisco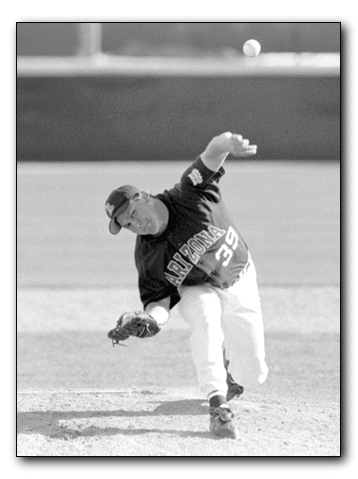 Sarah Brown
Arizona Daily Wildcat
Junior Nathan Duarte delivers a pitch against the San Francisco Dons yesterday at Sancet Field. Duarte gave up two earned runs in four innings, but the Dons rallied for six runs in the eighth inning for a 16-10 victory.
It was a strange weekend to be an Arizona baseball player.
In a three-game series, the Wildcats defeated San Francisco by 14 runs on Saturday, only to lose by 6 yesterday afternoon.
Winning two of three games at home was disappointing, at least to junior designated hitter Ryan O'Donnell.
"On the road, winning two out of three games is great," he said. "At home, this early in the season, it's not as great."
Arizona (4-2) began the weekend by rallying to defeat San Francisco. USF pitcher Ian Perio, a senior transfer from Arizona State, struck out 10 Wildcats in seven innings, and the Dons entered the bottom of the eighth inning with a 3-0 lead.
After scoring two unearned runs in the eighth, University of Arizona senior Rob Shabansky, who missed the entire 1999 season with injuries, singled home the tying run.
After pitcher Tony Milo shut down the Dons in the top half of the ninth, the Wildcats came to the plate with the chance to win the game.
Senior pitcher-turned-catcher Mike Myer doubled to lead off the ninth, advancing to third on a poor relay. After a pair of intentional walks, Troy Gingrich stepped to the plate with the chance to be a hero.
Gingrich never got that chance, however.
A wild pitch scored Myer and cemented a 4-3 Wildcat victory.
Saturday afternoon's action was all Wildcats. UA exploded for 12 runs in the sixth inning, its highest single-inning run total in five years, as the Wildcats rolled to a 21-7 victory.
Sophomore Shelley Duncan, junior Erik Torres and freshman Matt Abram each drove in three runs in the victory.
However, the day's most interesting moment came when O'Donnell pinch hit in the sixth inning. The left-handed junior drove in two runs in his first-at-bat and another two in his second. Both at-bats came in the same inning, the 12-run sixth. O'Donnell finished the weekend with five hits in six at-bats, good for seven RBI.
Sophomore Mike Crawford worked six innings, allowing five hits as Arizona rolled to its third straight victory.
In Sunday afternoon's game, the Wildcats and Dons were sloppy. In a four-hour game, UA and USF combined for eight errors and 26 runs over nine innings of ugly baseball. The Dons prevailed, 16-10.
The Wildcats pitchers set a record in the loss by hitting six batters.
"We had a general offensive, defensive and baserunning breakdown," UA head coach Jerry Stitt said. "We've got a long week coming up."
But with baseball, there is always tomorrow ... literally.
The Wildcats return to Sancet Field this afternoon as the team embarks on a two-game series against Brigham Young.
Stitt believes UA is lucky to have the luxury of returning to the field today.
"We're really fortunate to be able to come back (Monday)," he said. "We just want to get back out on this field."
The Cougars, which compete in the Mountain West Conference, have started the season 0-4 with a pair of losses to Florida Atlantic and Arizona State.
Will the Wildcats try to take out their frustrations on BYU this afternoon?
"We'll be alright," O'Donnell said. "We'll come out here and take it out on them."
Both games start at 3 p.m.