Farewell to arms?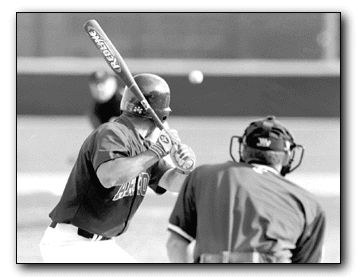 Sarah Brown
Arizona Daily Wildcat
Wildcat third baseman Erik Torres gets ready to face a pitch Sunday at Sancet Field. Torres' solo home run was not enough for Arizona, as it fell to Brigham Young yesterday, 15-9.
Nine or 10 runs should usually be good enough to win a college ballgame.
That is, unless the UA baseball team is playing.
The Wildcats scored 10 runs on Sunday and nine runs yesterday afternoon ... and lost both games.
In front of about 300 people yesterday at Sancet Field, the Wildcats allowed 15 runs and 21 hits en route to a 15-9 loss, the team's second in a row.
It marked the first win for BYU following losses to Florida Atlantic and Arizona State.
The Cougars came to Tucson, hungry to score. And score they did.
The Cougars racked up runs in eight of the nine innings behind the arm of Jeff Stone, who allowed five runs in 51/3 innings. BYU was 5-of-13 with 11 RBI with runners in scoring position.
For the Wildcats, it marked the low point of a young season in which the Wildcats have started off 4-3 against smaller schools such as San Francisco, St. Mary's (Calif.) and Brigham Young.
In its two losses, Arizona has demonstrated that its pitching staff is glaringly weak.
How desperate were the Wildcats for live arms?
Kevin Huff pitched for the first time in three years yesterday afternoon, following two seasons of injuries. The right-handed junior from Phoenix redshirted the 1998 season and skipped last season following shoulder ligament injuries. In two innings of work, Huff allowed two runs on three hits.
"It was fun to get out there and pitch again," Huff said. "I never thought of hanging it up. I enjoy being out here."
Following the game, UA head coach Jerry Stitt praised Huff for his resilience. "He did alright," Stitt said. "It's definitely good to see him back out there pitching."
While Huff's return made for a good story, it could also be seen as the act of a desperate team looking for pitching.
"I still can't throw what I could before I had surgery," he said. "Before, I could throw an 81 miles-per-hour slider. Now, my fastball is about that."
The Wildcats will start left-handed sophomore Brian Pemble this afternoon against the Cougars (1-4).
Offensively, UA's Shelley Duncan ended a 6-game hitting streak, going 0-for-3 with three strikeouts and two walks.
The Wildcats return to Sancet Field this afternoon at 3 p.m..