Olson, Wildcats put loss behind them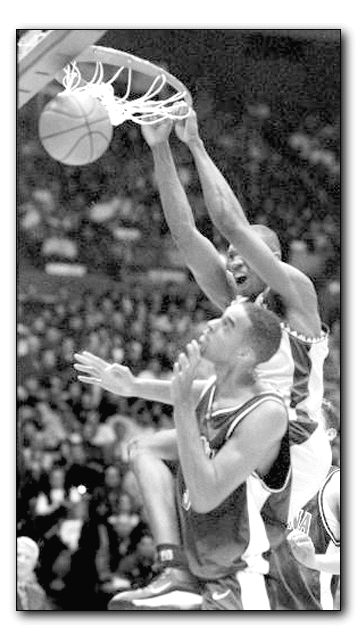 Associated Press
Arizona Daily Wildcat
LSU's Stromile Swift, background, grimaces while slamming the ball home for two of his 29 points over Arizona's Loren Woods (3) in the first half Saturday in Baton Rouge, La. LSU defeated Arizona in a major upset 86-60.
University of Arizona's head coach Lute Olson admitted he made a mistake scheduling Saturday's game against LSU.
The 86-60 loss to the Tigers was Arizona's worst during Olson's 17-year tenure in Tucson.
Arizona (17-4 overall, 6-1 in the Pacific 10 Conference) scheduled the game last year to give senior forward Eugene Edgerson a chance to play at home.
Edgerson is redshirting this season to concentrate on graduating in time and was not able to make the trip to Baton Rouge - as a player or a fan.
"Frankly, from my standpoint, that was a huge mistake in terms of scheduling," Olson said.
Losing to LSU has no bearing on the Pac-10 standings, Arizona's real target.
"The reason we did it is we always try to get our seniors one game back near their locale," Olson said. "That was the only date Louisiana State could play."
On the heels of three consecutive road games at UCLA, USC and Arizona State, making a long road trip to play a non-conference game was the last thing on the player's minds.
The team arrived in Baton Rouge at 10 p.m. on Friday night and had an 8 a.m. shoot-around Saturday before the afternoon game.
If that wasn't enough, a blizzard delayed the team's flight home.
Olson wasn't using that as an excuse for the way the team played, and instead gave credit to LSU.
"That team played the best of any team we've played all year long," Olson said. "I don't ever recall facing a team with two inside guys like they had."
Sophomore forward Richard Jefferson is having trouble watching Arizona's big men get double- and triple-teamed. While the perimeter players get open looks.
Jefferson, who was shooting 53-percent from the field and 45-percent from three-point land before fracturing his right foot against Stanford Jan. 8, is aiming for an early-March return.
He has been riding the exercise bike and lifting weights to stay in shape, but can only wait for his foot to heal before he can play basketball. "There's not too much I can do, there's no rehab," Jefferson said. "I just have to let my foot heal."
With Arizona's outside shooting suffering since his injury, Jefferson believes he can give the team a boost when he returns.
Opponents will have to focus on stopping him as well as the four other players on the court. Lately, teams have been packing players into the paint and challenging Arizona to make the outside shot. As for his arms, walking on crutches for nearly a month have made them stronger. Will it disrupt Jefferson's shot?
"It's not going to affect me too much because even last year as a freshman, all I did was drive it to the cup and dunk it or lay it in anyway," he said.
UA junior center Loren Woods has been getting the attention of NBA scouts this season for his dominant play in the paint.
Many experts have pegged Woods as a top-five pick if he enters the NBA Draft after this season
But the only advice the 7-foot-1, 230-pound Woods will listen to on the subject is from his mother, Colleen, who isn't very supportive of her son making the jump to the pros.
"It got to my mom in St. Louis, and she heard I was going to leave," Woods said. "She called me and said, 'You better make sure you're going to class! Forget about going to the league.
"She called me last night and said, 'You're stock is definitely going down after the LSU game.' She's crazy, she's serious about it."
Woods had 12 points and 11 rebounds in the loss to the Tigers.