Icecats continue roll, gymnastics squad splits meets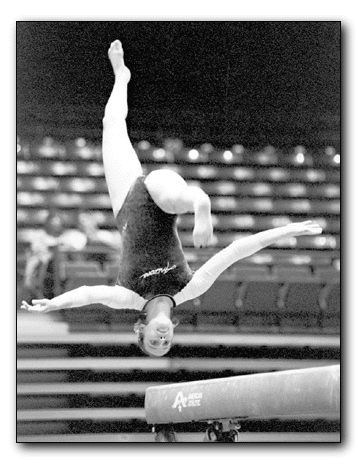 Ian C. Mayer
Arizona Daily Wildcat
Junior Kara Fry performs a flip on the beam during Friday's victory over San Jose State at McKale Center.
Weekend Recap
Icecats continue unbeaten streak
Continuing its roll to the American Collegiate Hockey Association playoffs, the Icecats extended its unbeaten streak to 16 games by sweeping the weekend series against the Saint Louis Billikens.
Scoring his 200th career point and 100th career goal as an Icecat, junior center Marc Harris cemented himself as one of the top Icecats in the 20-year history of the program this weekend.
Harris' only goal Friday was his 100th overall, which helped the Icecats defeat the Billikens, 7-3. On Saturday night, Harris reached another milestone, as his first goal - the second of the game - was his 200th point. The No. 6 Icecats also took that game, 5-1. Saturday night's contest started off as a defensive struggle. Sophomore goaltender Jason Morgan made several key saves that helped to keep the game scoreless.
One minute into the second period, junior right wing Ed Carfora skated around the goalie in an attempt to pass the puck off to junior left wing Paul Dorn. The puck bounced off a defenseman's skate and into the net, giving the Icecats a 1-0 lead.
A goal from Ed Carfora, two from Harris and a blue line slap shot from sophomore defenseman Pavel Jandura made it 4-0.
Carfora closed off the game with a shot past Stiehr during the third period. The Icecats have some time off before traveling to Tempe on Saturday to play Arizona State. ASU tied St. Louis on Thursday night 5-5. The Icecats are have not lost to Arizona State in nine straight appearances, going 8-0-1.
-Joshua McClain
Wildcat gymnasts split weekend meets
Taking top places in every event, the Arizona's gymnastic team was able to record its highest total score this season, registering a 194.025 victory over San Jose State.
UA, ranked No. 23, was led Friday night by strong performances from sophomore Randi Liljenquist and freshman Nikki Beyschau and never trailed the Spartans.
"The team's overall effort was very apparent tonight," UA gymnastics' coach Bill Ryden said. "We wanted to improve our consistency and we did." Liljenquist took her second all-around title with a career-high of 39.125. She also earned first-place honors on the beam with a 9.75 and the floor with a career-high of 9.9.
Beyschau had a career-high in the all-around with a second place finish of 39.00. Beyschau also took second place honors with career-highs on the beam (9.7) and the floor (9.825).
After sitting out last week with an ankle injury, senior All-American Heidi Hornbeek took the bars title with a 9.85. Junior Kara Fry recorded a 9.625 on the beam, a 9.8 on the floor and a 38.75, giving her three third-place finishes. After Friday's impressive outing, Arizona traveled to Denver, where the team experienced a much different outcome.
With an overall score of 192.900, the Wildcats finished third behind the University of Denver and the University of Minnesota. Arizona (3-4 overall, 0-2 Pacific 10 Conference) got an outstanding performance from Hornbeek, who registered a 9.85, a career high, on the bars. The finish gave her the Wildcat's only first place finish, albeit a tie for first. Denver, which placed second, fell to 5-2 while Minnesota improved its record to 3-2 after the first-place finish.
Next up for UA is California and Southern Utah in a triangular meet on Friday. The meet is at home in the McKale Center and starts at 7:30 p.m.
-Ryan Marie DeGolia
Rugby team opens with conference win
In its first conference game of the season, the Arizona men's rugby team knocked off the two-time defending Division II champion, the University of California at San Diego, 22-17.
The game was tied 0-0 at halftime, but Arizona, led by flyhalf Rodd Penney and center Dan Duncan, came on strong in the second half. Penney scored two tries and Duncan added another. The win upped the Wildcats record to 2-1 overall and 1-0 in the SoCal Conference. Arizona, which won the conference last season with a 6-1 record, then fell to Stanford in Palo Alto, Calif. on Saturday 20-10 in a non-conference matchup. Duncan scored the lone try for Arizona.
Next up for the Wildcats are matches against conference opponents Cal Poly- San Luis Obispo the University of California at Santa Barbara, which come to Tucson next weekend.
-Brett Erickson
Track opens season with several victories
The University of Arizona track and field team opened up it's season this past weekend in Reno, Nev. with junior Andrea Neary setting a NCAA provisional qualifying mark of 12 feet 6 (3.81m) in women's pole vault.
Arizona took part in the Silver State Games, which were hosted by the University of Nevada.
In doing so, Neary set an indoor school record for the event topping her previous accomplishment of 12 feet 4 inches, placing her 9th in the nation.
Other women turning in solid performances were senior Carolyn Jackson in 400 meter and sophomore Brianna Glenn in the 200 meter and long jump.
Jackson placed second with a time of 56.21 ranking her as the top collegiate finisher in the event. Glenn set a career best time with 24.78 putting her in third and placed fifth in long jump with a mark of 18 feet 9 inches (5.72m).
The men turned in a couple of solid performances with senior Micheil Jones starting off with a victory in the 3000 meter (8:33.58) with a pair of sophomores, Mike Kenyon and Matt Lea placing third (48.11) and sixth (49.48), respectively. No overall team scores were announced at the meet.
The men's team will take the weekend off and begin preparation for two upcoming meets. Half the squad travels to Lincoln, Neb. to participate in the Husker Invitational while the other half travels to Indianapolis to compete in the Cannon IV Classic. Both events take place Feb. 11-12.
-Francisco Merced