Residents create unique community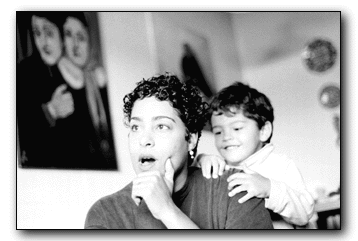 Arizona Daily Wildcat
Photo by: DANIEL KEMPNER
Anna Orbay and her son Selim, 3, sit in their Christopher City Apartment. Anna, whose husband, Ozer, is a UA environmental engineering doctoral student, has decorated the apartment with many of her own paintings.
Amy Insalaco and her family have made friends with Belgians, Hungarians, Russians and Japanese - all without leaving their Christopher City apartment.
Insalaco met the international students at the University of Arizona's family housing complex, 3401 N. Columbus Blvd., where she has lived since August.
"Our kids get exposed to a lot of different cultures," said Insalaco, whose husband, Mike, is a UA second language acquisition and teaching doctoral student.
Some Christopher City residents have said the best part of living at the UA family housing complex is its friendly atmosphere and sense of being part of a community.
However, the apartment complex's future is unknown. UA officials have debated since they bought the apartments in the late 1960s whether to repair the existing structure, rebuild it entirely or relocate families and the many international students to another structure near campus.
Andrea Vekony, who is originally from Hungary, said she likes her children being exposed to other ways of life at Christopher City.
"It definitely makes it more interesting," said Vekony, whose husband Atilla is a UA information resources and library science graduate student. "You can make friends with people from other countries that you'd otherwise never meet."
Anna Orbay, whose husband Ozer is a UA environmental engineering doctoral student, said she didn't know anyone when she first moved from Chicago, but the complex's social functions allowed her to meet people.
"People tend to kind of watch out for each other, and that's something you can't replace," she said.
Kendra Davey said she likes that her two children, Fiona, three, and one-year-old Conlan, have room to play with their friends that is safe.
"I really don't have to worry about them," said Davey, whose husband, Sean, is a computer science graduate student.
Jake Elkins, a member of the Christopher City Residential Association, said the complex's residents are the "backbone" of UA's researching capabilities because many of them are graduate and doctoral students.
"I live here because of the people," said Elkins, who is a graduate student in urban and regional planning. "We have the finest community in Tucson."
Christopher City has 70-foot pool, playground, community center, a preschool facility and SunTran service.
The preschool also functions as a day care facility because it is open from 7:30 a.m. to 5 p.m., which allows their parents to work.
Elaine Dickerson, a teacher at Christopher City's preschool, said the 28 children at the school come from all over the world and the United States.
"Most of the children pick up English very quickly," Dickerson said.
The students learn their alphabet, numbers, colors, shapes and phonics. They are also currently studying outer space.
Christopher City history
In 1994 and 1995, Saundra Taylor, UA vice president for Campus Life, ordered a university-wide task force to study the state of the complex and suggest a solution.
The group suggested, through two reports, to rebuild Christopher City. It also found UA families wanted the restructured complex to be safe for children, and international students wanted a secure environment.
Residents also voiced concerns about the safety of living at Christopher City.
Taylor said the UA sprayed for roaches, fixed doors and brought Christopher City up to code after the task force's report was issued.
"We got on that right away," Taylor said.
Martha Castleberry, Christopher City community services manager, said complex has undergone a series of repairs since she began her position in 1985.
Castleberry said the UA has replaced some of the complex's carpeting, refrigerators and blinds during the late 1980s. They have been repairing the roof since about 1986.
During the early 1990s, the university placed insulated window panels and thermostats in the apartments, Castleberry said. They added eight computers with Internet connection, a copy machine and a printer about five years ago, she said.
They also made improvements to the laundry room and added playground equipment about three years ago.
They also painted, re-carpeted and renovated office space in the community center about three years ago.
The UA has spent $774,826.45 in repair and maintenance at the apartment complex from 1996-1999, according to data from Residence Life's business services office.
James Van Arsdel, UA director of Residence Life, said Christopher City experienced problems partly due to residents' actions.
He said they would leave their air-conditioners on for 24 hours and not suffer consequences because each individual apartment was not metered.
Christopher City residents, through the years, have wanted a low rent so the UA had to avoid major reparation projects, Van Arsdel said. The complex became even more run-down because the UA delayed repairs, he added.
"So over time, you saw that the university did not do a great deal of work out there," Van Arsdel said.
"The historical definition of Christopher City is that it is cheap," Van Arsdel said.
The complex's current monthly rent for a two-bedroom furnished apartment is $543.
"If there are consistencies about Christopher City, it's that we've been able to keep the cost competitive," Taylor said.
Van Arsdel added that he knows delaying a decision can "drive everyone, especially residents, a little crazy."
He added that every appraisal of the complex has stated that it needs to be rebuilt.
Castleberry said Christopher City residents have asked the UA to fix potholes in the street and parking lot. She added that the residents would also like easier Internet connections, fresh carpet and grounds improvements.
Paul Rocheville, Christopher City general maintenance supervisor, said his office answers about 500 maintenance requests a month.
"Its an old facility, and it has its share of problems just like if it was a new facility - it would have its share of problems," Rocheville said.
Laura Roberts, UA Graduate and Professional Student Council president, said she supports the new $25 million graduate housing complex that the Arizona Board of Regents approved last month. The facility will be located north of Coronado Residence Hall and is scheduled for completion in 2002.
"The UA currently offers no single graduate student housing; these students have no alternative but to seek off-campus housing," Roberts stated in an e-mail interview. "Although graduate students do have the option of residing in undergraduate facilities, significant differences in lifestyle and academic practices render this option unacceptable for most graduate students."
Roberts also stated that the Graduate and Professional Student Council encourages the UA to "continue to investigate alternatives for providing additional housing options that meet the needs of graduate students with families."
Associated Students President Cisco Aguilar said he wants some kind of family housing complex, although he said UA families should determine its location.
"I would like to see a facility that has the capacity to house families and a child care facility," Aguilar said.
Aguilar added that UA families should take comfort that UA President Peter Likins has vowed to not make changes at Christopher City without notifying the residents.
.