Dominant pitching leads UA in sweep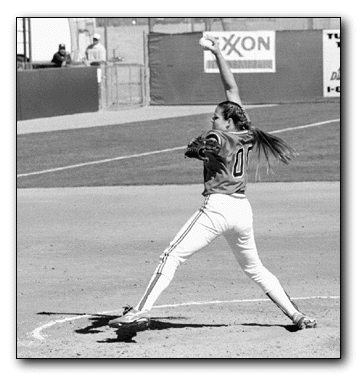 Wildcat File Photo
Arizona Daily Wildcat
Sophomore Jennie Finch delivers a pitch last year during a home game at Hillenbrand Stadium. Finch and junior Becky Lemke combined for 14 innings of shutout pitching yesterday as the Wildcats swept Arizona Central Community College in an exhibition doubleheader.
If championships are won with steady defense and good pitching, then the UA softball team is well on its way to competing for a national title.
The Wildcats swept Arizona Central Community College in an exhibition doubleheader yesterday at Hillenbrand Stadium behind strong pitching performances from junior Becky Lemke and sophomore Jennie Finch.
"Today was much better than us practicing, I am very, very pleased," UA softball head coach Mike Candrea said. "I thought the first game, we did a nice job of swinging the bat and hitting the ball where it's pitched. I thought today we played very good defense, there were a lot of good things going on."
Lemke paced the way for UA in the first game, striking out 10 batters while allowing two hits in seven innings of shutout work.
"I thought Becky looked real good, she had good velocity and I thought good movement," Candrea said.
Offensively, the Wildcats started out slowly, but broke open a 0-0 tie in the fourth inning with a sacrifice fly by Finch and a RBI single by senior outfielder Chrissy Gil to take a 2-0 lead.
"We had a slow start getting on the bats," Lemke said. "But once we got it going, it really went good."
The Wildcats exploded in the fifth and sixth innings, scoring seven runs, three of which came on junior shortstop Allison Andrade's three-run blast over the right-field wall. The Wildcats went on to win, 9-0.
The offense came to a halt though in the second game, as Central freshman pitcher Missy Passley shut down the potent UA offense, holding UA to a single run.
Luckily for the Wildcats, Finch was equally impressive as she threw a one-hitter and struck out nine batters in seven innings of work, giving the UA its second shutout of the day.
"I am a lot more focused than I was last year," Finch said. "I know what college softball is all about, I feel a lot more confident and just ready to go get them this season."
The Wildcats finally broke through in the bottom of the sixth inning as junior outfielder Lauren Bauer hit a two-out single. After Bauer stole second, junior catcher Lindsey Collins hit the game-winning single to drive in Bauer and secure the 1-0 victory.
Even with the sweep, Candrea stressed to his players that they needed to be more aggressive at the plate, something they failed to do in the second game.
"Early in the year, most of the time the one thing that is a little behind is the hitters, because they really haven't seen a lot of live stuff," Candrea said. "I think overall we got done what we needed today, though."