Freshmen have Cal faithful salivating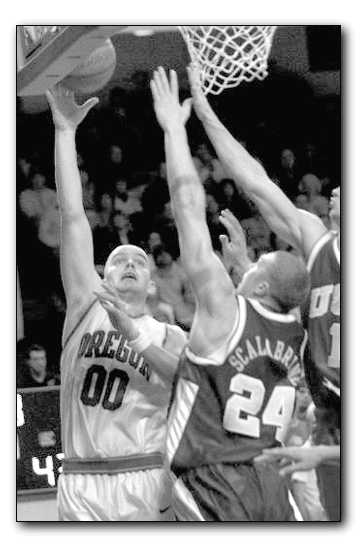 Associated Press
Arizona Daily Wildcat
Oregon's A.D. Smith (00) shoots over Southern California's Brian Scalabrine (24) during the second half Thursday, in Eugene, Ore. Oregon handed No. 23 Southern California its first conference loss of the season, 68-67.
After a 2-5 start in conference play, the Haas Pavilion faithful in Berkeley, Calif. have good reason to be worried, but for some reason they are not.
That reason being that the Golden Bears are young and only getting better.
Just how young are they?
After junior forward Sean Lampley, who is averaging 16.9 points per game, the next five leading scorers on Ben Braun's squad are freshmen.
Joe Shipp (11.0 points) leads the rookies with Nick Vander Laan (10.1 points, 6.8 rebounds) a close second and Shantay Legans (8.5 points) third, while also leading the team in assists with 73. Brian Wethers (7.7 points) and redshirt freshman Donte Smith (6.3 points) round out the new guys.
Following those five freshman are two sophomores - Solomon Hughes (5.5 points) and Dennis Gates (4.4 points).
It was a weekend to forget for the Washington State men's basketball team.
The Cougars traveled to the Bay Area expecting a rough road trip, but nothing could have prepared them for what happened.
WSU managed to score only 84 points in two games against Cal and Stanford, while giving up 143.
After waiting 22 minutes for the game to start on Thursday night in Berkeley, Calif. due to a fire alarm, the Cal Golden Bears came out of the gate and scored 13 of the games first 15 points en route to a 80-46 victory over the Cougars.
Joe Shipp scored 22 points off the bench for the Bears including 16 straight in the second half.
WSU senior Chris Crosby led the Cougars with nine points.
As for Saturday's Stanford game, the Cardinal broke out to a 36-16 halftime lead en route to a 63-38 blowout, handing WSU its ninth straight loss.
Crosby again led the Cougars in scoring, this time with 16 points moving him to 14th place on WSU's all-time scoring list.
Oregon's senior forward A.D. Smith had quite a weekend, and as a result, he was named the Pac-10 player of the week.
Smith averaged 16.5 points, six rebounds, two steals and two assists in the Ducks two victories over UCLA and USC.
It is the first time Smith has been honored with the award from the conference and the 18th time a UO player has received the award.
After suffering its first Pac-10 loss to Oregon on Thursday night, the USC Trojans rebounded with a record-breaking performance Saturday at Oregon State.
In its 82-69 victory, the Trojans set a conference record, making 20-of-29 three-pointers.
Brandon Glanville hit 5-of-7 from long range, leading the Trojans with 21 points.
The Trojans opened the second half by hitting their first 11 shots, nine of which were from downtown.
Beaver fans even started chanting, "Miss, miss, miss," when the Trojans got the ball.