Rebuilding gets underway on torched fraternity house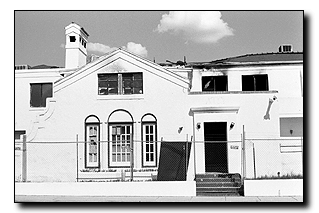 Casey Dexter
Arizona Daily Wildcat
The former home of the Alpha Tau Omega fraternity still shows scars from the fire that burned through it in July, 1998. It will soon be demolished to make room for a new Delta Tau Delta fraternity house.
Despite a one-year delay and more than $1 million in renovation expenses, members of a UA fraternity said they are enthusiastic about rebuilding the charred remains of the Alpha Tau Omega house.
Members of Delta Tau Delta fraternity are ready to go ahead with plans to rebuild their new house after a fire - later determined to be arson-related - that nearly destroyed the structure.
Formerly occupied by Alpha Tau Omega fraternity, the house, 1050 N. Cherry Ave., was to be sold to Delta Tau Delta, but a July 1998 blaze gutted the house before the transaction could be completed.
Alpha Tau Omega had been stripped off of its charter and evicted from the house in May 1998.
The arson case was dropped in January after the Pima County Attorney's Office determined there was not enough evidence to pursue the case.
However, Delta Tau Delta was still able to secure the purchase and is currently demolishing the interior of the burnt-out house before rebuilding.
Improvements will include knocking out the second floor and completely re-outfitting the ground floor, leaving only the outside walls from the original structure.
Jeff Evans, Delta Tau Delta president, said the $1.2 million project will be financed by existing chapter savings and the insurance money from the initial fire.
Although the fire stalled Delta Tau Delta's move by two years, Evans said he is ready to leave past troubles with ATO behind, and forge ahead with his fraternity's future.
"It was a shame we didn't get the house a year ago," Evans said. "But in the long run, it will definitely be worth the wait."
Demolition began on Monday, and will continue throughout the semester. Construction on the new interior is set to begin Jan. 1, 2000 and is expected to be complete in time for the next fall semester.
Delta Tau Delta's current house at 1550 N. Vine Ave., a UA-owned building that the fraternity is renting from the university, keeps members about three blocks north of campus. The new house would move members closer to classes and other campus amenities.
"Getting the house on campus is the main thing, plus it's a nicer house," said Evans.
Evans is "definitely excited" about the move, as is director of Greek Life, Bob Gordon.
"We are very happy about the move," he said. "We are very positive about it."