Kron set to take on the world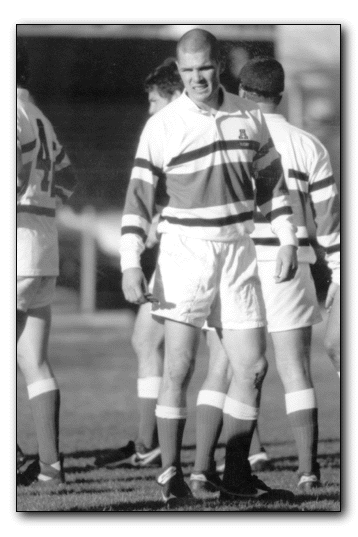 Arizona Daily Wildcat
Photo courtesy of Chris Mooney UA rugby fullback Chris Kron scans the field during a game last season. Kron, a senior, was recently selected to play for the U.S. national rugby team and is currently traveling the world for international competition.
On a recruiting trip to Northern California five years ago, Arizona rugby head coach Dave Sitton found a player who proceeded to change the UA program during the last five years.
Chris Kron, a 6-foot, 180 pound fifth year senior from Sarotoga, Calif., started playing rugby for his high school's club team.
"Chris really liked the program," Sitton said. "He heard we had a really good team and from then on he was set on going to the University of Arizona."
"As an incoming freshman, he had the advantage of playing in high school. He was already an outstanding athlete," Sitton said. "He made an immediate impact first as a wing and then finally to his current position as a fullback."
In his fifth season with the Wildcats, Kron was recently named to the United States Eagles team. The Eagles are the United States national rugby team.
"It was a high honor to be named to the team," Kron said two weeks ago before he left for New Zealand. "It is kind of equivalent to playing pro-football for a rugby player."
Besides New Zealand, Kron and the Eagles will compete in such places as Australia, Dubai, Argentina, Fiji, Hong Kong, Japan and France.
"The place where I am most looking forward to seeing is Fiji," Kron said. "I have heard a lot of good things about Fiji and heard the Fijian people are very friendly and enjoy the game of rugby."
Kron, a marketing major, made the team with his stellar play on the All American Sevens team in September. A solid performance at a national training camp that ran through the end of October also helped him, Kron said.
"I have every reason to believe that he will excel and do well," Sitton said. "He is not just a college rugby player anymore but now an international athlete."
Kron spent one summer in New Zealand where he played for the TePuke United Pirates.
"My previous international experience has given me a lot of confidence," said Kron.
The Eagles team has a total of 12 players, seven of whom play on the field at a time. The world's most renowned team, the New Zealand All Blacks, will be the biggest test for the Eagles.
"They represent the biggest challenge," Kron said. "They are a lot of guys who I have been watching for years. The All Blacks are equivalent to the Dream Team in the NBA."