Northern Calif. schools sweep through L.A.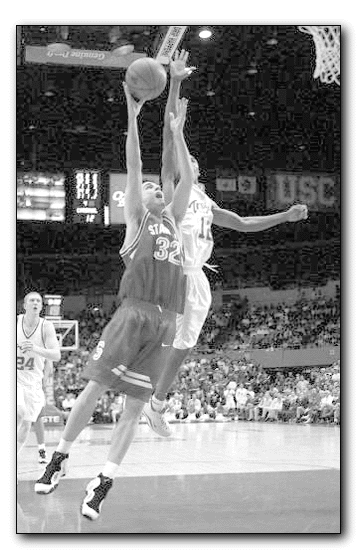 Associated Press
Arizona Daily Wildcat
Stanford forward Ryan Mendez (32) goes to the hoop against Southern California defender Jeff Trepagnier (12) in the first half at the Sport Arena on Saturday, in Los Angeles.
USC's stay at the top of the Pacific 10 Conference standings was a short one.
After jumping out to a 6-0 conference record, the Trojans (13-8 overall, 6-3 in Pac-10) have lost three of their last four games, including a two-game homestand against California and Stanford last weekend.
Cal, on the other hand, put some life back into its season after stunning USC 66-62 on Thursday night and UCLA 73-70 on Saturday. The Golden Bears stand at 4-5 in the Pac-10, 13-8 overall, good for fifth in the conference, with a trip to the NCAA Tournament well within reach.
Also beating up on the Los Angeles schools was Stanford (19-1, 8-1), which remained at the top of the Pac-10 standings with a 78-63 win against UCLA and a 67-57 win against USC. Junior forward Ryan Mendez had a career-high 24 points against the Trojans.
Stanford is currently holding the opposition to 33.7 percent shooting from the field and are within striking distance of breaking the NCAA single-season record. Marquette held opponents to 35.8-percent shooting over the course of the 1993-94 season.
After meeting cross-town rival USC on Wednesday, UCLA travels to Upstate New York to face No. 4 Syracuse.
The Orangemen stumbled for the first time this season Monday night, losing to Seton Hall 69-67 at the Carrier Dome.
Those who complain that Arizona's trip to Baton Rouge, La., to play LSU in the middle of the Pac-10 season was unnecessary should take a look at what Steve Lavin has scheduled for the Bruins.
UCLA defeated North Carolina in Chapel
Hill last month, but the cross-country trip must have taken some of the bounce in UCLA's step - the Bruins have gone 2-4 since Jan. 15.
Oregon rebounded from Thursday's 77-71 loss to Arizona by defeating Arizona State 86-73.
The Ducks (7-2, 16-4) got 20 points and 12 rebounds from last week's Pac-10 Player of the Week A.D. Smith, while Sun Devil freshman Donnell Knight had a career-high 16 points.
ASU's Eddie House remained cool, compared to his early-season feats, shooting 5-for-19 from the floor and scoring 15 points. House is the No. 6 scorer in the country, but the Sun Devils haven't been able to take advantage - ASU has lost five of its last six games.
Washington guard Deon Luton scored 26 points in the overtime win against Washington State on Saturday.
The loss ruined the Cougars' debut on their new parquet floor at Friel Court, as well as giving Wazzu (0-9, 5-13) its 10th straight lost. Washington improved to 8-13 overall and 3-6 in conference play.
The NCAA is handing out suspensions left and right to some of the country's key players.
UCLA's struggling inside game has taken a hit now that sophomore forward JaRon Rush has been suspended for 44 games during this season and next season because he accepted extra benefits during high school.
Rush isn't the only one in the family who won't see the bright lights of college basketball for a while. His brother, Kareem, who plays at Missouri, accepted gifts from his AAU coach and was suspended for the rest of the season.
Stepping out from the Rush family, Michigan and St. John's are without the services of their top players for the upcoming stretches of their respective conference seasons.
Michigan freshman Jamal Crawford was told by the Michigan athletic director before the start of last week's game against Michigan State to sit out because he allegedly broke a rule of amateurism by staying with a man instead of his mother in high school. He was given a six-game suspension that might have an effect on Michigan's postseason hopes.
Crawford, a Seattle native, signed with Fresno State in 1998, but was not eligible and stayed for a fifth year of high school. Michigan and the NCAA began the investigation after Crawford registered a 1988 Mercedes on campus.
St. John's sophomore point guard Erick Barkley was suspended for three games by the NCAA for taking an extra benefit, the Red Storm coaching staff said.
Barkley, who is averaging 17.1 points per game, was handed a three-game suspension that will not allow him to play or travel for the rest of the week.