UA battles Pima in exhibition game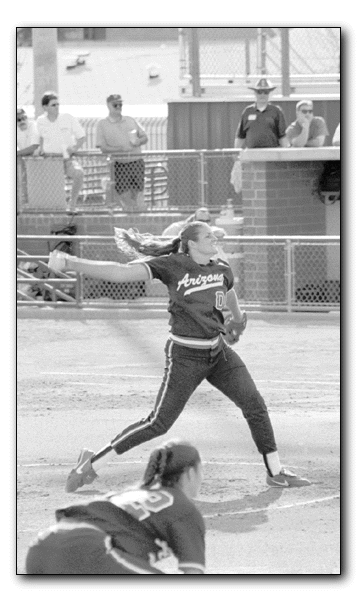 Eric M. Jukelevics
Arizona Daily Wildcat
Junior pitcher Becky Lemke throws a pitch during Saturday's game against Washington at Hillenbrand Stadium. Lemke, who tossed a no-hitter Friday against Southern Mississippi, will start today in an exhibition game against Pima Community College.
In a tune-up for the Fiesta Bowl Tournament in Phoenix this weekend, the UA softball team will play Pima Community College in an exhibition game this afternoon.
The No. 4 Wildcats (2-1) will use the contest against the Aztecs as a chance to fine tune their game and further the team's chemistry.
Arizona needs to "just keep working hard, work at all the little things, putting together our team, keeping our team together, working on cut-offs, keeping the defense strong," junior shortstop Allison Andrade said.
"Because defense is going to win games."
Along with Andrade, junior outfielders Nicole Giordano and Lauren Bauer are powering the UA offense, which produced 19 runs in three games at the Arizona Pepsi Softball Classic last weekend.
Andrade, junior first baseman Jennie Finch and junior catcher Lindsey Collins have all hit home runs for UA this year.
Junior pitcher Becky Lemke will start at pitcher for the Wildcats.
Lemke is 1-1 this season and has given up only one earned run in 12 innings of work this year.
Her most impressive performance to date was a no-hitter against No. 5 Southern Mississippi on Friday.
"We are just looking to work hard, just get ourselves going," freshman infielder Lisha Ribellia said. "Making sure we are ready for this weekend, we are just taking it one game at a time this year."
The game will take place at 3 p.m. at Rita Hillenbrand Memorial Stadium.