NFL star Derrick Thomas dead at 33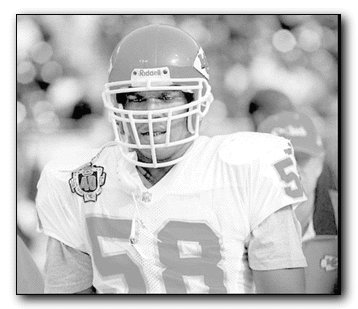 Associated Press
Arizona Daily Wildcat
Kansas City Chiefs linebacker Derrick Thomas, leaves the field during the third quarter against the Oakland Raiders in Oakland, Calif., Nov. 27,1999. Thomas died yesterday, in a Miami hospital where he was being treated for injuries following a car crash that left him paralyzed from the chest down. The Kansas City Chiefs said Thomas had a heart attack and efforts to resuscitate him failed.
Associated Press
MIAMI-Derrick Thomas, one of the most feared defenders in the NFL and a nine-time Pro Bowl player, died yesterday, less than a month after being paralyzed in a car crash on an icy road. He was 33.
Thomas was being transferred from his hospital bed to a wheelchair on his way to therapy when he uttered something to his mother and his eyes rolled back, said Dr. Frank Eismont, a neurosurgeon at Jackson Memorial Hospital.
"We were hoping that Derrick's story would have been a happier ending," he said. "This is very much unexpected."
The Kansas City Chiefs linebacker, who held the NFL record of seven sacks in a game, went into cardio-respiratory arrest, he said.
Doctors have not determined an exact cause of death and might perform an autopsy. One of Thomas' doctors, Dr. Barth Green, said a massive blood clot probably killed Thomas.
"This is a total shock," Green said. "Derrick was an extraordinary person and was breaking all the records while he was here."
A shaken Chiefs coach Gunther Cunningham recalled telephoning Thomas at the Miami hospital from the Pro Bowl on Sunday in Hawaii, after seeing players and fans honoring Thomas by wearing his number. Thomas had not been selected for this year's game.
"Derrick said, 'Coach, be strong.' He never told me how strong I needed to be," Cunningham said.
After a game, Thomas would always walk across the field "with a smile on his face," the coach said. "Not because the Chiefs won, but because that's the way he was. And that's the way I'll always remember him."
Flags were lowered to half-staff at Arrowhead Stadium in Kansas City, and the Missouri Legislature paused for a moment of silence after Thomas' death was announced by state Sen. Bill Kenney, a former Chiefs quarterback.
"Derrick Thomas was a true hero," said Kenney, who urged lawmakers to support a bill for spinal cord research in Missouri.
Thomas was driving a car during a snowstorm on Jan. 23 as he and two friends headed to the Kansas City airport to fly to St. Louis for the NFC Championship game. He lost control of the car, and it overturned at least three times, police said.
Police said Thomas was speeding and weaving in traffic, but prosecutor Don Norris said there wasn't enough evidence to file charges.
Thomas and passenger Michael Tellis, 49, were not wearing seat belts and were thrown from the car. Tellis was killed and Thomas' spine and neck were broken. The third person in the car, who was wearing his seat belt, sustained only minor injuries.
Thomas was brought to the hospital in Miami, his hometown, where doctors stabilized his spinal column with screws, rods and hooks and grafted bone from his hip. Though he was paralyzed from the chest down, doctors had hoped he would walk again.
Jackson Memorial is the home of the Miami Project to Cure Paralysis, the world's largest spinal cord injury research center, and its surgeons have operated on injured athletes before, including race car driver Emerson Fittipaldi.
An All-American at Alabama, the 6-foot-3, 255-pound Thomas became an immediate star as a pass-rushing specialist after being taken in the first round of the 1989 draft. He was an All-Pro in his first nine seasons and ranked ninth on the career list with 126.5 career sacks.
With one of the quickest first moves of any defender in the league, Thomas became known for his "sack and strip" move, where he closed fast on a quarterback's blind side and hacked at his arm to knock the ball out of his hand.
He set the single-game sack record in 1990 in a game against Seattle. That game was the same week as Veterans' Day and Thomas dedicated his performance to his father, an Air Force pilot killed in Vietnam.
Thomas also made headlines in 1998 when he lost his temper during a Monday night game against Denver and committed three personal foul penalties in the Broncos' final touchdown drive. He was fined and suspended for one game and apologized to the Broncos and his fans.
Kansas City Chiefs president Carl Peterson had visited Thomas on Monday.
"He was upbeat, he was positive, he was Derrick," a tearful Peterson, wearing a button with Thomas' No. 58, said from Arrowhead Stadium.
Thomas was one of the most popular athletes in Kansas City, and Peterson called the death a "devastating tragedy."
"He has done so much for this team and our city during the time that he had with us," Peterson said. "He had so much love for the game, for his teammates and for our town. ... A light has gone out."
Former Kansas City Chiefs coach Marty Schottenheimer visited his former player on Monday "and he was doing quite well. His spirits were very high."
"We're all in a situation at this juncture where I don't think any of us can appreciate the personal loss."
Thomas is survived by his mother, Edith Morgan; his son, Derrick Thomas Jr., 8; and a half-brother, Gregory Morgan, 19.