Big man on campus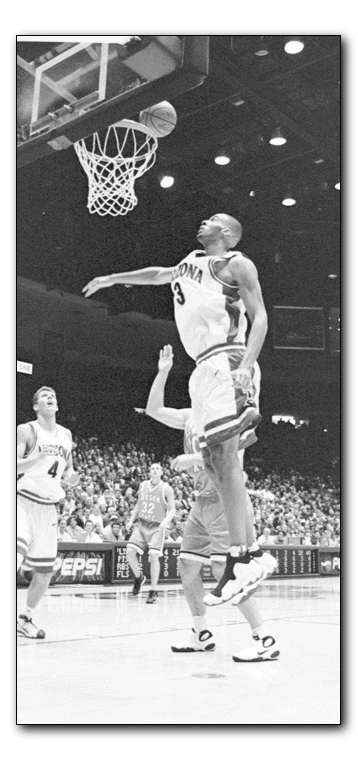 Aaron Farnsworth
Arizona Daily Wildcat
Junior center Loren Woods attempts to block a shot during Saturday's victory against Oregon State at McKale. Woods was named Pac-10 player of the week Monday after his dominating play against Oregon State and Oregon.
When you are 7-foot-1, it's not easy to keep a low profile.
No, his head doesn't pop out of his car when he is driving and hotels don't give him a longer bed when the Wildcats travel, but one thing is for sure, UA junior center Loren Woods is definitely noticeable from across campus.
"I am not really interested in what I look like off or on the court, I am just pretty much myself," Woods said. "I am not going to keep a low profile because I am 7-foot-1."
Because of his height, Woods stands out on and off the court.
After his 14 block performance against Oregon last Thursday, Woods stood out over the rest of the nation as well.
He not only blocked 14 shots, which tied an NCAA record, he also scored 16 points and grabbed 10 rebounds en route to a UA victory. The triple-double was the first from a UA player since Damon Stoudamire recorded 32 points, 12 rebounds and 14 assists, also against Oregon, on Feb. 25, 1995.
"He has played really well and his control and demeanor on the court is exceptional at this time," UA head coach Lute Olson said. "The only time he really gets irritated is if somebody takes a cheap shot at Jason Gardner, he has to protect the little youngsters on the team."
With his performance on the defensive end on Thursday night, Woods earned the distinction of being the greatest shot blocker in a single-season at Arizona with 91 to date - surpassing Anthony Cook's 84 blocks in the 1988-89 season.
"Just being on a list with Anthony Cook is an honor in itself, but somebody is going to break this record before McKale Center is down or before the University of Arizona changes its name or colors," Woods said. "It is just something to have, to enjoy for the moment. I will probably enjoy it for the next couple of years and then somebody else will come along."
Woods transplanted himself to the southwest from Wake Forest University, where he played two years under head coach Dave Odom, and St. Louis where he grew up. He almost went to Seton Hall University in South Orange, N.J. when he decided to transfer from Wake Forest, but the Arizona weather convinced him otherwise.
No matter where he has been, or where he ends up, Woods has three hobbies that he has enjoyed indulging in for as long as he can remember.
"Sleeping, video games...and I like to talk to women," he said.
Woods was a McDonald's All-American in 1996 out of Cardinal Ritter High School in St. Louis where he led the team to back-to-back state championships in 1995 and 1996. During one high-school game Woods recorded a quadruple-double - 20 points, 11 rebounds, 11 assists and 15 blocks.
With all the accolades he has received during his career at Cardinal Ritter, Wake Forest and now Arizona, Woods, a physical education major, believes he doesn't have a lot to worry about after his hoops career comes to a close.
"Hopefully after basketball is done I won't have to worry about anything because I would have been very successful and very rich and I can play as many video games as I want too," Woods said.