University to switch banking providers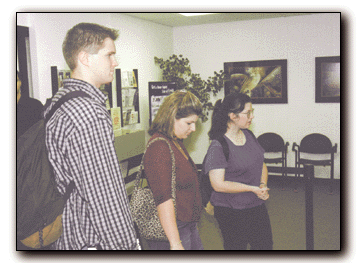 Randy Metcalf
Arizona Daily Wildcat
Microbiology sophomore Chris Stevens (from left) , undecided freshman Tara Merzel and linguistics junior Shannon Wilcox wait in line at the DM Federal Credit Union in the Student Union yesterday. The DM branch is closing March 31 and will no longer provide services for the UA. The DM Federal Credit Union at North Euclid Avenue and East Speedway Boulevard will remain open.
DM Federal Credit Union, which serves 20,000 UA students and faculty, will be closing its Memorial Student Union branch on March 31 and another bank will take over its services.
The University of Arizona will be switching over to a new official bank, UA spokeswoman Sharon Kha said yesterday, but a final decision hasn't been made.
"There will be a new banking service provided. We are in the process of selecting one," Kha said. "The students will not have to get a new card to access accounts (at the new bank)."
In July, DM merged with Saguaro Credit Union and in March, the then- Saguaro branch located on East University Boulevard closed.
The remaining DM Federal Credit Union branch in the University of Arizona area is at North Euclid Avenue and East Speedway Boulevard.
"We will be expanding the University-Euclid branch by adding additional teller lines," said Robert Ramirez, executive vice president of DM Federal Credit Union.
Its total membership is 85,000 members, 35,000 of which were added with the merger.
"We easily serve a few hundred students a day," said DM Memorial Student Union branch manager Julie Fair.
The branch opened in August 1997 and has increased the number of students it serves since the University branch closure.
The union office has five full-time employees.
DM's ATM machine in front of the Administration building will still be available for use.
"I think that sucks about the branch closing," said Jason Aillaud, geological engineering freshman. "I guess I will just walk to the corner (on Euclid) to go to the bank."
Aillaud says he is planning on changing banks and signing on to the bank UA will choose.
"I really am not impressed with the services DM has provided thus far," he said.
Vanessa Francis can be reached at Vanessa.Francis@wildcat.arizona.edu.