Mrs. Bush makes campaign visit to UMC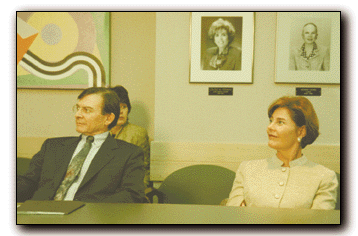 Randy Metcalf
Arizona Daily Wildcat
Texas Gov. George W. Bush's wife, Laura Bush, sits with University of Arizona President Peter Likins during her visit to the University Medical Center yesterday afternoon. Bush talked with doctors at UMC and visited children in the pediatric playroom.
The wife of presidential candidate George W. Bush toured the University Medical Center yesterday amid hospital officials' attempts to sway her politics.
Laura Bush - who advocates literacy and child development programs - said health centers like the University of Arizona's are very important.
She also listened to concerns from hospital representatives.
Greg Pivirotto, UMC Chief Executive Officer, said the Balanced Budget Act of 1997 could cause the hospital to lose $27 million in federal funding over five years.
"For a relatively small hospital, that is going to greatly impact us," said Pivirotto, who reminded Bush he is a Republican and a taxpayer. "It appears this particular act has gone too far."
Pivirotto said he has lobbied this issue twice in Washington, D.C. Now he wants Bush to take this issue back to the U.S. capital.
"It's a very important issue for hospitals," said Bush, whose husband is the governor of Texas.
Pamela Kling, UA pediatrics professor, spoke with Laura Bush during a brief tour of a UMC laboratory.
Kling said the National Institutes of Health, a U.S. government organization, must provide necessary funding for her research about how babies' bodies produce blood.
"I'm seeking a $500,000 grant," Kling said. "We don't want that budget cut."
Jim Dalen, Arizona Health Sciences Center vice president, said the quality of America's health care will be affected by an inability to provide Medicare in the future.
"I guarantee you we are going to be affecting quality care," said Dalen, who is also dean of the UA College of Medicine.
Fayez Ghishan, Steele Memorial Children's Research Center director, said the UA has conducted significant science research and he hopes Bush, if she becomes the nation's first lady, will continue to develop solutions to Arizona's health problems.
"We have made incredible strides over the past several years in the treatment of acute leukemia," Ghishan said.
Bush said she is confident in her husband's popularity in Arizona.
"We've got a lot of support in Arizona, starting with Gov. (Jane) Hull," Bush said.
Bush said her husband's stance on free trade with Mexico could alleviate problems Arizona has experienced similar to Texas' with immigrants entering the United States.
She said immigration issues are a top concern.
"I think it is very important for our country and really for our world," Bush said.
She said George W. Bush will focus heavily on education, should he become president.
"Universities need to inform public schools system what (students) need to know," Bush said.
Tanya Howard, whose son is being treated at UMC and briefly met Laura Bush, said the presidential candidate's wife did not stay long enough for her to express some of her political concerns.
Andrew Malcolm, George W. Bush's deputy communications manger, said the presidential candidate will probably visit Arizona before the state's Feb. 22 primary election.
Laura Bush will campaign in Michigan and South Carolina next week, Malcolm added.
Rachael Myer can be reached at Rachael.Myer@wildcat.arizona.edu.