Improv-ing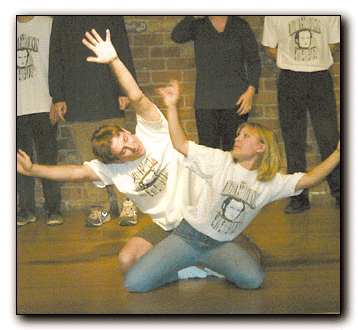 Casey Dexter
Arizona Daily Wildcat
Mike Schwitzing, plant science senior, and Tammi Torok, theater arts junior, members of the Charles Darwin Experience, play freeze tag in the Student Union Cellar last week. The all-improvisation group performs each Thursday night at 10.
For three years, the UA improvisational troupe "Charles Darwin Experience" has been entertaining campus audiences. Every Thursday at 10 p.m., the group shows off its unique brand of humor in the Cellar of University of Arizona Memorial Student Union.
There are no scripts or scene rehearsals to prepare this group - just a basic outline of cast members and games to play.
The essence of improvisational humor is spontaneity and freshness; nothing will ever be repeated.
The lack of conventional rehearsal creates an atmosphere conducive to true comic creativity.
"There is no pre-writing. It's all on the fly," said Tami Torok, theater arts junior. "We're all improv, all the time."
Audience participation is a major factor for the success of the comedic performance. Since patrons never volunteer the same response twice, audience members can be sure to see a new show each week.
The Charles Darwin Experience, referred to as CDE by members and audiences, was founded by fine arts senior Tony Carnevale in 1997.
He teamed up with four friends and held auditions. By October 1997, the 11 member crew was ready for its first performance.
Now, the Thursday night tradition has gained popularity, sometimes packing more than 150 people into the Cellar.
"We always have a pretty full crowd," said Tamale Sepp, agricultural technology management and agriculture education senior. "We pretty much pack the house."
Troupe members also have a good time performing, allowing the audience to play off the good vibes.
"It's a catch-22," Sepp said. "If we are having fun, the audience will have fun, too, and vice-versa."
CDE premiered their first performance of the semester on Jan. 27. Although every performance is unplanned and cast members try to be as spontaneous as possible, there is usually an agenda of games to perform.
Sound Effects, Forward/Reverse and Epoch are just a few of the unscripted games played at certain shows.
In their first performance of the semester, the underlying theme in almost every game was Rep. Jean McGrath's, R-Glendale, effort to ban controversial elements of the college life, which became a series of twisted bedtime stories.
"I like when (the CDE) takes current events and applies them in their comedy routine," said Tony Zaman, media arts sophomore and CDE fan.
The audience, which essentially becomes the last member of the troupe, is part of the show's popularity.
Additionally, the laid back atmosphere promotes loud participation instead of suppressed spurts of laughter.
"People have fun because they get to participate and we stay away from the gutter humor," Torok said. "We need their input and we're not uptight about it."
Audience members try to create incredibly difficult situations for the cast to act out. During the Orphan game, the audience shouts out different reasons why each cast member was given up for adoption.
Later, the audience votes on which "orphan" had the most pathetic situation and decides to adopt him.
"The cast does a great job of solving conflicts in a funny manner," said Brittain Hastings, international business freshman.
Branching out
also performs at venues other than the Cellar. Last spring, the troupe participated at an eight-day collegiate theater arts festival.
About 450 people showed up for this performance at the University of Sonora in Hermosillo, Mexico - their largest show to date.
"We were invited back this year, and we'll probably go again," Sepp said.
Venues vary from performing at the J Bar in Tucson to their latest performance at Camp Sunrise in Payson.
The comedic timing of an improv group is not instinctive, however. CDE practices four hours a week to brush up on the basic skills that make good improv.
"We all have specific skills and give each other notes on what works and what doesn't," Torok said.
Each cast member has strengths and weaknesses, creating a better performance and showcasing every actor in a positive light.
"An extremely important component to making a successful show is becoming comfortable with the rest of the troupe," Sepp said. "Like Tami is very strong in her physicality, and I'm more wordy, joking around."
The shows can get out of hand with overzealous participation and raucous laughter - from both the cast and the audience.
"The show is always entertaining because the students involved are very talented," said journalism sophomore Diana Young.
As another semester begins, CDE will be focusing on the creation of new games while perfecting already existing ones. There is a large turnover of new cast members since the original founders will soon graduate.
"I know the Charles Darwin Experience will always be here," Sepp said. "I hope it stays as long as the University is here. We all come together to create a spectacular show, which the audience will always appreciate."
Perhaps people will appreciate Charles Darwin more for lending his name to a talented group of comedians, rather than his impact in evolutionary science.