An 82-game reunion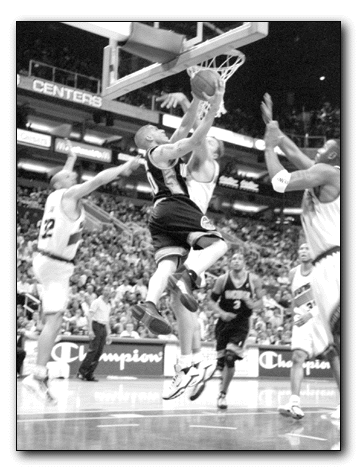 Aaron Farnsworth
Arizona Daily Wildcat
Grizzlies' guard Mike Bibby attempts a reverse lay-up Tuesday against the Phoenix Suns at America West Arena. Bibby, in his second NBA season, has experienced his share of growing pains in the NBA but continues to improve after a two-year career at Arizona.
Then former UA shooting guard Michael Dickerson was told he'd been traded from the NBA's Houston Rockets to the Vancouver Grizzlies on Aug. 27, he wasn't terribly happy.
"I was disappointed, very disappointed," he said after Tuesday's game against the Phoenix Suns. "I was happy there (in Houston). But now that I've been traded, I'm having fun. It's the best thing that ever happened to me."
Part of the reason Dickerson is having fun has to do with the other guy in the Grizzlies backcourt, his college teammate Mike Bibby.
"We know each other," Dickerson said. "We know what we're going to do. I know where he's going to be."
The move to Vancouver was also a plus for Dickerson since it put him within a few hours of his hometown of Seattle.
"Yeah, I'm very close to home," he said. "I drive down every off-day to see my family."
While the Bibby-Dickerson reunion hasn't turned around the Grizzlies' lackluster fortunes - their record was 13-34 after losing to the Suns 94-76 at America West Arena Tuesday night - the tandem still showed they have the uncanny ability to find each other whenever they get open.
Dickerson scored Vancouver's first points of the game with a three-pointer off an assist from Bibby.
"His first step is so good," Bibby said. "It's hard to guard him. He's so strong, too. He's doing good, I'm happy for him."
Dickerson scored 19 points against the Suns to lead Vancouver, while Bibby chipped in 12 points and four assists.
For the season, Dickerson is averaging 16.6 points, 3.1 rebounds and 2.2 assists per game. Bibby scores an average of 14 points per game with 7.2 assists and 3.7 rebounds.
Both have come a long way since winning the national championship at Arizona back on March 31, 1997.
"Yeah, it does seem like a long time ago," Dickerson said. "I don't really miss anything. You've got to move on some day."
Dickerson said Bibby hasn't changed too much since the days when they were running up and down the court at McKale Center.
"He's matured a lot more," Dickerson said. "Obviously, he's become a leader. He keeps getting better and better with every game."
Bibby credited Vancouver's new head coach, Lionel Hollins, with bringing the Grizzlies' level of play up. Since Hollins took over for the fired Brian Hill, Vancouver has gone 9-18, a definite improvement after a 4-16 start.
"He's a great coach," Bibby said. "He lets us play. He'll get on us if he needs to. He's a player's coach."
Bibby said the fact Hollins is an Arizona State alum means little to him or Dickerson.
"It doesn't matter to me," Bibby said. "That's all in the past now. We're on the same level right now."
On the NBA level, Bibby routinely has to square off against All-Stars such as the Suns' Jason Kidd. Throw in Phoenix shooting guard "Penny" Hardaway, and the comparisons between the Suns' and Grizzlies' backcourts are inevitable.
"That's nothing for us to talk about, that's for (the media) to build up," Bibby said. "We came out here trying to get a win. We didn't come out and play hard enough."
Kidd was especially physical with Bibby, getting in his face and disrupting his rhythm throughout the game.
"I think that's what they probably tell him to do," Bibby said. "(But) I think I wasn't focused tonight. I've got to get more mentally focused."
The game also marked a homecoming for Bibby, who's from Phoenix and had 89 friends and family in attendance, and he said that might have had distracted him.
"It might have something to do with it," Bibby said. "But I'm not going to make (that) an excuse."
The loss to the Suns was the Grizzlies' second of the season, but the first, in Vancouver, was a bit closer with a 95-92 final.
"They came out and showed their aggressiveness before we showed ours, and it kinda hurts," Bibby said. "They got their big lead and we were never able to bounce back."
Despite the losses, Dickerson said there is a definite upside to the NBA lifestyle.
"Being able to relax a lot of times (is nice)," he said. "Other than the games and practices, we pretty much have the whole day to stay at home or go out or whatever."