Second half kicks off at Wash.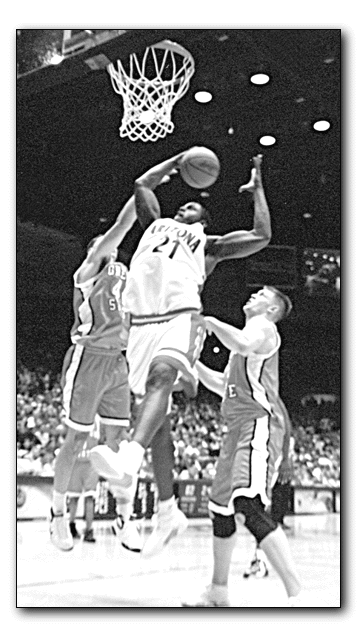 Aaron Farnsworth
Arizona Daily Wildcat
Sophomore forward Michael Wright grabs a rebound during Saturday's victory against Oregon State at McKale. Wright and the Wildcats open the second half of conference play tonight against Washington.
It has been an interesting year to say the least, but the No. 7 Arizona Wildcats have persevered through it so far.
Despite the redshirt of senior Eugene Edgerson, the transfers of sophomore Ruben Douglas and junior Luke Recker, the departure of freshman Robertas Javtokas back to Lithuania, losing junior Lamont Frazier to a medical redshirt and sophomore Richard Jefferson to a broken toe, the Wildcats still stand atop the Pacific 10 Conference through the first half of the season.
"This is a young team, and we make some bonehead plays," UA head coach Lute Olson said. "We are hoping there are fewer of those as we go, but that is what experience is about. On the other hand, they are competitive and even if they make bad plays, somehow they are going to try and figure out a way to win."
At 8-1 in the Pac-10, UA shares the same record with Stanford. The Wildcats did beat the Cardinal at Maples Pavilion, giving them the head-to-head advantage for first place in the conference.
That record will be on the line tonight as the Wildcats, who are 19-4 overall, travel to Seattle to play the Washington Huskies (8-13 overall, 3-6 in Pac-10) at Key Arena, beginning the second half of conference play. Tip-off is at 8:30 p.m. Tucson time.
UA beat the Huskies 69-62 at McKale Center on Jan. 15 behind a stellar defensive performance by redshirt freshman forward Luke Walton, who was starting only the second game of his career.
Walton held UW's leading scorer, senior guard Deon Luton, to 10 points on a three-of-19 shooting night.
Luton, though, averages 21 points per game at home on 50 percent shooting, compared to 12.1 points on 32 percent shooting on the road.
"He is a great shooter and last time we did a good job of keeping him from getting going," Walton said. "He is going to be at home and feeling better, but I am going to try and do the same thing - just always be around him, have a hand in his face."
The Wildcats were led by front-line starters junior center Loren Woods and sophomore forward Michael Wright, who both posted double-doubles on the night.
Woods had a game-high 22 points as well as 11 rebounds and five blocks, while Wright scored 16 points to go along with his 12 rebounds.
Despite losing six of its first seven conference games, UW has come on strong as of late and is riding a two-game win streak coming into tonight's contest.
"Certainly the confidence is higher than it was a week and a half ago," UW head coach Bob Bender said in a press release. "The hunger is greater because there is nothing they can't accomplish to this point, but we also know how hard it is going to be starting Thursday night."
The Wildcats may have an advantage before the ball even tips off as UW's senior forward Chris Walcott and sophomore guard Senque Carey may not play tonight.
Walcott is recovering from knee surgery he had on Jan. 27, while Carey has a sprained right ankle.
"Chris is doubtful for Thursday but possible for Saturday," Bender said. "Senque is questionable for Thursday. His swelling is going down everyday and he's making progress. We kept him on crutches (Tuesday)."