Wildcats enter 2000 season in style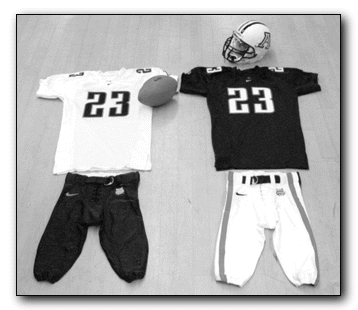 Aaron Farnsworth
Arizona Daily Wildcat
The new Arizona football uniforms are displayed yesterday at McKale Center. The design features a "bat wing" design similar to the NFL's Denver Broncos.
How do you erase the memories of a 6-6 season?
Well, for football head coach Dick Tomey and the Arizona Wildcats, the answer might be to change the uniforms.
The Wildcats will enter next season sporting new jerseys and pants, replacing the school's striped jerseys and block letters of old. This marks the most drastic change in uniforms since Dick Tomey arrived on campus in 1987.
Wendell Neal, the UA's Director of Equipment Operations, said the new-look Wildcat uniforms were a long time coming.
"Nike approached me about possibly changing the uniforms following the season," he said. "They needed to be updated. The new uniforms will look really classy."
The new jerseys will sport a "bat-wing" design feature similar to that of the Denver Broncos. Although the helmets will remain basically the same, the new design of the jerseys and pants will bring the uniforms a sleeker look.
"We're going for a subtle look here," Neal said. "Nike sees Arizona as a traditional school. We don't want to implement any dramatic changes."
The jerseys' numbers have changed, following the look of the school's "block A" logo.
"The 'A' mixes curves and sharp corners well," Neal said. "We've redesigned the numbers to fit the helmet design."
In addition, the "block A" design will adorn the sleeves of the new jerseys. It will replace the three stripes that have been on Wildcat uniforms for more than a decade.
The pants will basically stay the same. The three stripes will stay on the uniform pants, but the cursive "Cats" logo will be replaced with UA's stenciled cat-face logo.
"Stripes on the jerseys are out of style," Neal said. "However, the stripes on the pants and helmets are the uniforms' distinguishing style."
The bat-wing design, which has recently been adopted by Oregon and Brigham Young, will not affect the uniforms' look, rather their function. The jerseys will complement a change in everything from shoulder pads to tape, leading to a sleeker look.
"The uniforms needed to be redesigned, not really for cosmetics but for function," Neal said. "We're trying to look sleek."
The uniforms recently were displayed at a NCAA Coaches' Conference in Anaheim, Calif., where they were received well.
"The one word that we heard was 'classy,'" Neal said. "That's exactly what we are looking for. The key is to be subtle but in style."
On Nike's written proposal, they included a possible prototype of a red jersey.
"Coach and I both passed that page right away," Neal said.