UA takes on Dawgs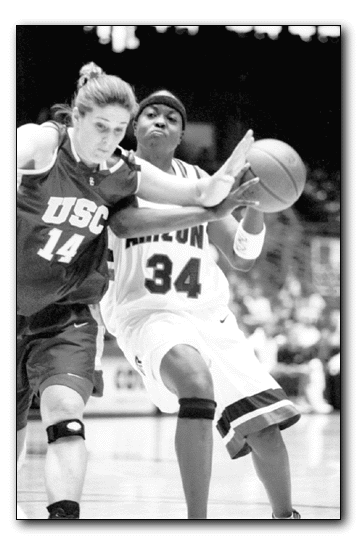 Nicholas Valenzuela
Arizona Daily Wildcat
Senior forward Angela Lackey eludes a Southern California defender during a Jan. 22 game at McKale. The Wildcats, who are in a three-way tie for first place in the Pac-10, take on Washington at 7 p.m.
Standing in first place in the Pacific 10 Conference, the UA women's basketball team hopes to add to what they've began when they enter the second half of their conference schedule by hosting Washington at McKale Center tonight at 7.
At 18-3 overall and 7-2 in Pac-10 play, No. 14 Arizona is off to its second best record in school history. But adding to that and staying in the hunt for the Pac-10 crown will not be easy against the Huskies (7-14, 3-6), UA head coach Joan Bonvicini said.
"Washington creates a tough challenge in that two of the best shooters in the Pac-10 are on the same team," Bonvicini said. "(Guard Megan Franza and forward Loree Payne) really have the ability to go off. That is a real key, we are going to do a better job than we did last time."
Though the Wildcats downed the Huskies 96-85 in Seattle on Jan. 15, the Arizona defense allowed Payne to pour in 27 points and Franza to score 15.
Stopping Franza and Payne, who are first and third in Pac-10 scoring with 19 points per game and 17.5 ppg, respectively, will be key in a Wildcat victory.
Bonvicini said that her team cannot focus on halting just one of Washington's two scorers - because the other has the potential of putting up big numbers and putting the game out of Arizona's reach.
"They are really good shooters, and they do a really good job of recognizing each other, what other players do and of utilizing screens," Bonvicini said about Franza and Payne. "They also have the ability to create for themselves."
Though Franza and Payne combined for 42 points in the last Husky-Wildcat meeting, UA senior guard Lisa Griffith kept Arizona in the game by scoring a career-high 26 points.
Twenty-one of Griffith's points came from behind the arc, where she made seven-of-10 three-pointers.
The Huskies have dominated the all-time series 22-6, but the Wildcats have picked up victories in five of the last eight meetings.
After garnering their first road sweep of the Oregon schools in 10 years, the Wildcats are on a four-game win streak and have moved into a three-way tie for first place with Stanford and UCLA. They are looking to take advantage of the situation they're in.
"Opportunities only come around so often, and we got the door opened last week, so now we are in contention and have to take care of business," Bonvicini said. "For our team and our season, we have four home games and for our seniors, its the last four games they're ever going to play here.
"If that doesn't motivate you, I don't know what does."