Dance performance holds traditional undertones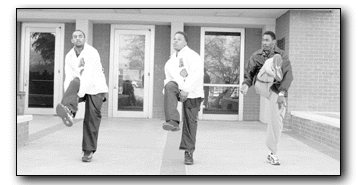 Arizona Daily Wildcat
Photo by: AMY WINKLER
Members of the fraternity Alpha Phi Alpha (left) Eugene Thompson, Niles Watson, and Nick Smith practice a "step" dance yesterday outside of the Science Center in preparation for the Ice-Train Step Show. Twelve groups will perform at the show taking place Saturday in Social Sciences 100 starting at 4:30 p.m.
A presentation of the traditional energetic explosion of competitive dance known to the UA African American Pan-Hellenic community as "stepping" will swing into full force tomorrow afternoon.
Alpha Phi Alpha's "Ice-Train Step Show" is expected to draw about 530 people eager to watch the tradition of "stepping" as a taste of black history, said Niles Watson, University of Arizona business and economics junior. The show begins at 4:30 p.m. in Social Sciences 100.
Watson also said step-dancing in South Africa is a form of communication as well as expression.
"They communicated with drums, but when they didn't have any drums they used their bodies - some steps were intended to be a beat behind a song," Watson said.
Step-dancing - not to be mistaken for Irish dancing - is a creative and competitive tradition of the African American Pan-Hellenic community, Watson said.
Composed of complex and sharp body movements, sounds of feet stomping and palms smacking against the chest, thighs and ankles, stepping is vocal in its themes and resonance.
Watson said the rhythmic motions and sounds compose a history of happiness and heartache.
"It's almost like there's nothing like it," Watson said. "It's a series of stomping to make various rhythms and beats."
Although Watson said stepping isn't typically thought of as a means for communication - as it was in the past - Smith said it is still a unique and collective form of dance.
Nick Smith, biology sophomore, said stepping is not only a unique form of expression, but also of dancing.
"When you're dancing to R&B it's getting your groove on in a different way, but stepping is for the audience," Smith said. "We're performing for people there."
Brittany Ward, undeclared sophomore, said she agreed, but also feels stepping is specifically for the black community.
"It gives us a sense of community, like African-Americans have our own community and we can show other minority groups what we do - and they can't," she said.
Smith, Ward and media arts graduate Eugene Thompson disagree.
"Some of the Hispanic fraternities performed at the last step show, so it's getting more universal," Thompson said. "It is unifying people other than black people because when you are up there you are making it positive."