Mold causes health problem for family housing resident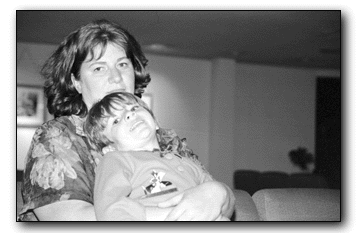 Arizona Daily Wildcat
Photo by: GAVIN STEVENS
Former Christopher City Apartment Complex residents Charla Carr and her 5-year-old daughter, Kylee, left Christopher City in December after Kylee developed asthma. Carr, a UA history junior, said mold in her former apartment caused her daughter's asthma.
Toxic mold from a former Christopher City resident's apartment probably caused stomach, intestinal and balance problems, a UA risk management official said Thursday.
Kathy Skiles, who lived at the University of Arizona's family housing complex last semester, said she suffered health problems from her apartment that caused her to leave the UA in January.
Julia Rosen, health and safety officer for Risk Management, is scheduled to finish a report this week about the mold in Skiles' carpeting at Christopher City Apartment Complex, 3401 N. Columbus Blvd. The complex houses UA students with families as well as many international students.
"I think it could have explained her symptoms," Rosen said about the mold.
Water dripped onto Skiles' carpet, which was made out of cellulose and allowed toxic mold to develop, Rosen said.
"I'm compiling the results of our samples, and I need to get that report to Residence Life," Rosen said.
James Van Arsdel, Residence Life director, said he was aware the report was being written by Rosen, but did not have first-hand knowledge of its findings.
"Obviously it concluded that a resident may have come into contact with something that could have some adverse effect on them," Van Arsdel said. "It's hard for me to say anything else until I know what Julie (Rosen) has to say."
But Van Arsdel said he was unsure of the mold's effect on Skiles.
"I don't know if we can absolutely say that is what caused someone's symptoms," Van Arsdel said about the carpet mold.
Skiles' problems began about the time she moved into her apartment, 32-G, in August. She said the apartment had a strong odor that is unlike anything she has ever smelled before.
Her problems started as a runny nose and a headache, but developed into stomach and intestinal problems, as well as difficulty balancing.
"In the earlier (part of the) semester, I was like a dead person walking - I was so sick," Skiles said in a telephone interview from Pennsylvania.
"Six months ago, I had all these dreams and these things going for me," Skiles said.
She added that personal problems - as well as poor health - contributed to her decision to leave UA.
Skiles said even though she has moved more than 2,300 miles from Christopher City, she is unable to get rid of the smell of her old apartment.
"My furniture still smells like Christopher City," said Skiles, who was studying psychology and eventually wanted to earn a doctoral degree. "My mom has used Febreeze on my sofa more times than I can count."
In late September, Skiles contacted Christopher City maintenance about her illness.
They flushed the air filter with bleach, but the smell persisted and her eyes still burned.
"All along the way, they tell me that every so often there are problems with the air handlers," Skiles said.
Christopher City maintenance staff also cleaned her carpet, but Skiles said it made no difference.
In October, UA Campus Health officials told Skiles not to return to her apartment and signed a doctor's note stating that she should move out. Chemical analysis stated she had elevated liver levels, Skiles said.
Risk Management conducted a report about the apartment and found that mold had grown on Skiles' air handlers, Skiles said.
Christopher City gave Skiles the use of a guest apartment but she did not want to live there because the apartment smelled similar to her previous place.
"I was not being overly picky here - they were not in the greatest shape," Skiles said.
Van Arsdel said Residence Life helped Skiles as much as possible.
"As I understand, our staff went to great lengths to determine what kind of problem there was," he said. "I don't have any doubt our staff took appropriate actions in that case - that's not a concern of mine."
Skiles moved in with a friend, Charla Carr - who also lived at Christopher City - for the rest of the semester because she said she was tired of being sick.
But Carr had problems with her apartment, too.
Carr's daughter, Kylee, developed asthma about three months after the family moved into their apartment. Kylee, who had no previous or family history of asthma problems, developed asthma from mold in their apartment, Carr said.
Kylee, 5, first had cold-like symptoms, and then she had trouble breathing at times.
"I had asthma and it hurts because my tummy was hurt very bad," Kylee Carr said last week. "I feel happy I don't have it anymore."
The family moved to an apartment closer to campus on Dec. 1 because of Kylee's health problems.
Rosen said Carr's apartment had a different type of mold and also less mold than Skiles' apartment.
Risk Management wrote a report about Carr's apartment Nov. 29 after Kylee became ill. The report, written by Rosen, stated black stains on Carr's insulated water pipes "suggested mold growth."
Rosen found a "nickel-sized" black stain on a bedroom ceiling as well as mold in the air conditioner's condensation pan.
Rosen said this mold would not have been present in the air while Carr lived there and would not have been a problem. She added that thousands of molds grow naturally.
"In my opinion, there was very little mold at her apartment," Rosen said about Carr's residence.
Van Arsdel said he has not personally spoken with Carr, but that his office acted appropriately.
"I'm not aware of anything that we should have done that we haven't done," Van Arsdel said.
Carr, a single parent, said she moved to Christopher City Aug. 1 from Seattle to earn a degree and provide a better future for her daughter.
"I'm a little bitter," Carr said. "I think I'm really upset because people aren't aware of it."
Carr was present while Southwest Hazard Control Inc., a Tucson hazardous materials remediation agency, painted over the pipes and bleached them.
Rosen said her agency has conducted four complaint-driven reports in the last five years regarding Christopher City and the UA has taken action on all of them.
The two latest reports were for the Carr and Skiles apartments. Another report was about pesticides used to control roaches and one was about an herbicide used in gravel.
Martha Castleberry, Christopher City community services manager, said her office has received about a dozen complaints about health problems from residents during the past five years.
Castleberry said the most frequent complaint residents make is about allergies with cold-like symptoms.
"People get allergies that are so different, that's why its so hard to find out what's wrong with them" Castleberry said.
She said many Christopher City residents are unaware of the danger of living in their apartments.
"I firmly believe all the apartments have problems whether the residents are aware about it or not," Skiles said.
Carr said she wants a decision made about Christopher City. "Just do something - close it down or fix it," Carr said.