ASUA election ballot boasts new names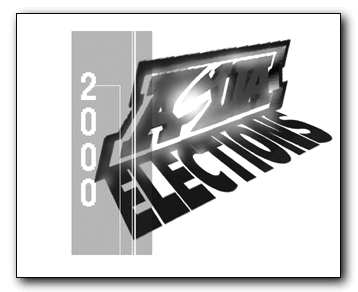 Arizona Daily Wildcat
UA students will get a variety of new faces to choose from in this year's ASUA elections - only five candidates are currently involved in the organization.
Gloria Montano, Associated Students elections commissioner, said there are a variety of reasons why more people are running for ASUA positions.
"It's really several factors - greater interest by incoming freshmen and more word has gotten out or people are seeing that they can make a difference," Montano said.
There are three people running for ASUA president, three running for executive vice president, two for administrative vice president and 19 candidates for Senate.
Cisco Aguilar, ASUA president, said the organization is happy students will get a variety of choices this year.
"We're excited that there are a lot of candidates this year, and students will have more of a choice," Aguilar said.
Aguilar added that ASUA had a productive year, which led to a candidate surge.
"From my experience in talking with people, it has to deal with how ASUA performed the past year," Aguilar said.
Aguilar said ASUA has not been involved in controversy this year, which helped keep student interest.
Although last year's election saw two candidates running unopposed for vice presidential positions, Montano said that situation is rare.
"Everyone has always run against someone," Montano said. "It's a rarity to run unopposed."
No one is looking to reprise their Senate position this year, but Aguilar said this is not unusual.
"Usually a lot (of senators) are graduating," Aguilar said. "If they (senators) do run again, usually it's for an executive position."
Montano said students can still run for positions as write-in candidates.
Prospective write-ins must turn in an eligibility form showing they took seven units last semester, are currently taking seven units and have a cumulative GPA of 2.0, Montano said.
Last year there were two write-ins, but they did not get past the primary elections, she said.
Montano added that it is possible to get past the primary as a write-in but the write-in candidate must get at least the amount of votes equivalent to the signatures gathered by official candidates.
The president must receive 500 votes, the vice presidents must receive 400 and the senators must receive 300, Montano said.
"It just means if you're going to be campaigning, you're going to have to work a little bit harder than other candidates whose name already appears on the ballot," Montano said.
The only candidates who are currently involved in ASUA are Executive Vice President Ben Graff, running for president; club advocate Scott Lavit, running for executive vice president; Sen. Ray Quintero, running for executive vice president; and Sens. Lauren Beth Hickey and Tiffany Podbielski, running for administrative vice president.