Scientists fear ocean shift may mean drought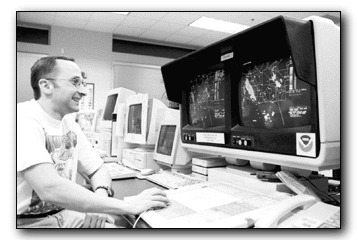 Arizona Daily Wildcat
Photo by: GAVIN STEVEN
National Weather Service meteorologist and UA public administration graduate student Erik Pytlak scans the radar for possible precipitation in Tucson's forecast. Shifting water temperatures in the Pacific Ocean may leave Arizona and California with drought conditions for the next 20-30 years.
Arizona Daily Wildcat
El Nino and La Nina conditions have wreaked havoc across the United States in recent years.
But scientists say there is a more destructive monster lurking in the Pacific Ocean that could negatively affect Tucson's weather for the next 30 years.
What is even scarier is that scientists know very little about it.
There is a gradual shift occurring in ocean water temperatures between China and California. This shift, known as the Pacific Decadal Oscillation, alters weather patterns across the United States and Canada about every 30 years, said Barbara Morehouse of University of Arizona's Climate Assessment Project for the Southwest.
If scientists' theories about PDO come to fruition, Tucson could experience drought conditions for many years to come.
"We are going into a negative cycle right now, so La Nina conditions could become the normal (for many years to come)," said Erik Pytlak, National Weather Service meteorologist and UA public administration graduate student.
Barbara Morehouse, of the UA's Climate Assessment Project for the Southwest, said the little-known PDO is a shift in warming and cooling patterns of ocean waters, which sets up extended periods of La Nina and El Nino conditions, depending on the cycle.
Pytlak said that while the PDO is an important weather phenomenon, it is not completely understood by climatologists.
"We are just starting to find out the signals," he added.
Scientists are not sure what causes the PDO to actually shift either, Pytlak said.
What scientists do know is that the PDO is a fairly regular shift of water temperatures in the Pacific Ocean.
A negative cycle of the PDO, which scientists predict is setting up in the Pacific currently, shifts storm systems to a more northerly track.
If predictions hold true, California and Arizona could be high and dry, while Washington and Oregon could be drenched for the next 20 to 30 years.
In a positive PDO cycle, El Nino conditions rule the waters off the West Coast, which lead to above normal rainfall in the Southwest and drier than normal conditions in the Northwest.
According to Pytlak, the PDO probably last shifted in 1995, which means drought conditions could persist in the Southwest until 2025.
Morehouse said scientists' first discovery of a shift in the water temperatures was in 1925, when El Nino-like conditions were commonplace across the nation.
The most memorable PDO shift occurred in 1947, and lasted until 1977.
During this period, Tucson and Phoenix each recorded three of their driest years on record.
In 1947, Tucson recorded 5.34 inches of rain, making it the second driest year on record.
The third driest year occurred just six years later in 1953.
Pytlak said that just because La Nina conditions are expected to dominate long-range climate trends, Tucson will not be completely dry.
"We need to keep in mind that the Dust Bowl (which hit the Midwest U.S. in the 1930s) occurred during a positive PDO cycle," he said.
Tucson recorded one of its wettest years in 1955 - during a negative PDO cycle - with 15.90 inches of rain at the airport, according to Pytlak.
In 1998, Southern California was hit hard by El Nino floods.
If scientists' predictions of the PDO shift in 1995 prove to be correct, the excessive rainfall amounts took place during what should have been dry times for the Southwest.
While drier than normal weather conditions could soon dominate the desert landscape, a local rain event that took place during the same El Nino year is still fresh in the minds of Tucsonans.
"Many people remember the six inches of rain that hit Sabino Canyon during a storm two years ago," Pytlak said. "It only takes one or two big storms to erase a rain shortage."
Figuring out the future of Tucson's climate patterns may be a difficult task, but scientists have been looking at an unlikely source to help confirm their findings - salmon.
Salmon are cold-blooded fish that prefer to swim in water well below 70 degrees and are good indicators of ocean water temperatures.
Where the cool waters flow, the salmon will go.
In 1994, Alaska set a new record for its salmon harvest, which topped the high of the previous year.
That same year, Washington and Oregon spring Chinook fisheries shut down because of a drastic decrease in fish catches.
Cool waters setting up off the Northwest Coast, and much cooler waters in the Gulf of Alaska are classic signs of La Nina conditions.
While fish migrations are hard to track, scientists do have hard evidence of a shift occurring in the Pacific.
NASA's Jet Propulsion Laboratory, in Pasadena, Calif., issued satellite data on Jan. 19 which shows an area of warmer waters developing in the North, South, and Western Pacific Ocean. Trapped in between is cooler water, which is commonly associated with La Nina.
While scientists at JPL appear confident that the PDO shifted in 1995, climatologists are not as certain.
"It might be 10 years before we know for sure that the shift occurred," Morehouse said.