New coach brings new attitude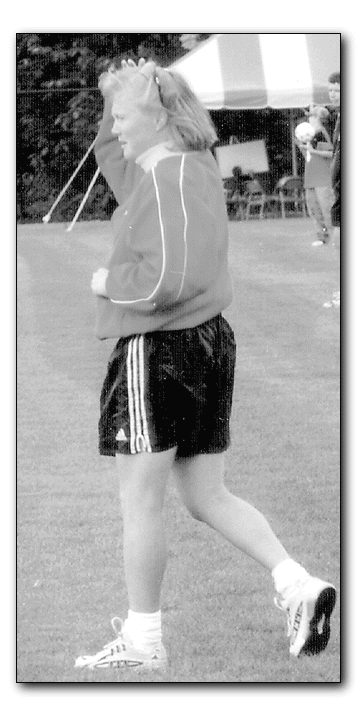 Arizona Daily Wildcat
Photo courtesy of Iowa State University New UA women's soccer coach Cathy Kline looks on at an Iowa State University practice last year. Kline has already made an impact on the women's team by instituting a rigorous training program.
When was the last time you were running at six in the morning?
If you happen to be a member of the UA women's soccer team, the answer would be today.
With the arrival of Cathy Klein as the new head coach of the Wildcats soccer program, the UA players have learned the advantages of going to bed early.
"We are in 6 a.m. conditioning sessions; we've completely revamped their weight training regiments and they have responded appropriately," Klein said. "What we've really tried to do is replicate what we know as a successful system and that is based on work ethic and teaching."
Arizona must have 14 early morning practices that go according to Klein's standards - hard work, perfect attendance, meet team goals - before they can begin having afternoon practices.
In three weeks of the morning sessions, the Wildcats have only completed 10 conditioning sessions up to Klein's standards.
"She is a real stickler for details," junior forward Chrissy Sanford said. "She is hard, but she is trying to be fair."
The Wildcats' idea of work ethic is being totally reshaped by Klein as she has raised the standards in almost every area of the program, from weight training, athletic performance, academic standing and self-imposed responsibility.
"Everyday I feel like I am going to die, but it is worth it," junior defender Ann Giallonardo said. "She is definitely pushing us harder than we have ever been pushed before."
Since her arrival in Tucson, Klein has focused on building relationships with her players without trying to overwhelm them with her demanding personality.
"What I wanted to do is build relationships, find out where the kids were," Klein said. "I think that our players have self-imposed performance standards, and I think those bars need to be raised. I think they've got a lot more in them that they don't know anything about. We are talking academically, we are talking athletically and we are talking socially."
Along with building new relationships with her players, Klein has had to bring together a team that was divided at the end of the season.
The players were at odds over former head coach Lisa Fraser and her standing with the team.
A group of players put together a petition asking for Fraser's resignation, but Fraser had decided to resign before she gained knowledge of the petition.
"I am not concerned with what has gone on in the past, let's move forward," Klein said. "We are making changes everyday to the program and its overall structure, and chemistry is just one of those things we are going to address."
Along with restructuring the program, Klein has assembled a coaching staff of Melissa Estrada, her top assistant at Iowa State where she previously coached, and Andre Luciano, who was retained from the previous coaching staff.
Klein has forced the team to become more involved in the community working with the fans, the UA and the athletic department.
In one of the first events, the team will provide free soccer clinics to Tucson youths April 29 at Murphey Stadium.
"She is always telling us we should be a family," sophomore midfielder Marisa Padula said. "She is gonna be real good for this program, she has been working us hard."
Aside from building a family atmosphere, Klein will reshape the Wildcat attack.
Arizona will play in an aggressive offensive scheme which focuses on attacking the goal from all positions on the field.
"I think that are team will be relentless in our commitment to performance," Klein said. "My teams always work very hard, extraordinarily hard because of the self-imposed responsibility of the institution and that's part of what we have to believe and that's pride."