Stanford continues to streak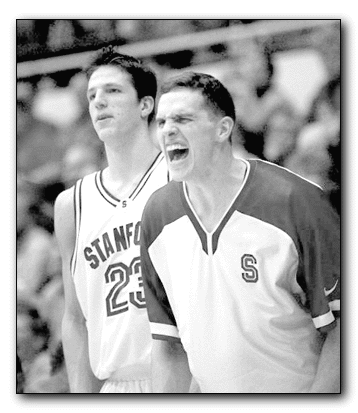 Associated Press
Arizona Daily Wildcat
Stanford forward Mark Madsen, right, shouts in front of guard Casey Jacobsen, left, in the final minutes of their game against Washington at Maples Pavilion in Stanford, Calif., Thursday.
Stanford is on a roll, to say the least.
Since losing to Arizona on Jan. 8, the Cardinal have reeled off nine straight double-digit wins en route to their current 21-1 record.
Two of those wins came this weekend as Stanford knocked off No. 24 Oregon, 76-61 on Thursday night and Oregon State, 82-56 on Saturday night.
Stanford was led by senior forward Mark Madsen, who against Oregon scored 19 points and had 10 rebounds, and against Oregon State he had 20 points and 14 rebounds.
As a result of his play, Madsen was named the Pacific 10 Conference's player of the week.
It is the second time Madsen has garnered the award and the 25th time a Cardinal has taken it home.
While all this sounds great, the Cardinal are still sitting in second place in the conference because Arizona also has only one loss and holds the head-to-head advantage. Stanford travels to Tucson on March 9 for a showdown that could crown the conference champion.
But, according to ESPN's college basketball analyst Andy Katz, even if the Cardinal lose to Arizona again this season, they still deserve to be the No. 1 seed in the West Region of the NCAA Tournament.
---
It seems as if the cold stretch is over for Sun Devil Eddie House.
Judging by the senior guard's performance in Washington this weekend, that would be an accurate statement.
House scored 27 points in the Sun Devils 81-79 overtime victory at Washington State on Thursday night and 29 points in ASU's win at Washington on Saturday night.
He helped ASU erase an eight-point halftime deficit with 18 in the second half against the Huskies.
House also displayed his knack for the assist. While getting double-teamed in the final seconds of the overtime period at WSU, House found a wide-open Kyle Dodd, who hit a three-pointer, giving ASU an 80-79 lead.
ии
UCLA took its troubles out of the conference this weekend and didn't solve anything.
In front of 29,731 people, the largest crowd for an on-campus game this season, the Bruins played the then-No. 4 Syracuse Orangemen close throughout the entire game, but in the end it wasn't enough.
The Orangemen broke its two-game losing streak behind Jason Hart's 18 points and seven assists.
Hart, a Los Angeles native, was looking to exact revenge on the Bruins who handed Syracuse a 93-69 drubbing last year at Pauley Pavilion.
"I just wanted to get this victory," Hart told The Associated Press following the game. "We had two straight losses. It was very important for us to get this victory."
UCLA, despite losing its ninth game of the season, did find a bright spot as Dan Gadzuric found his scoring touch with a career-high 18 points. He also grabbed 12 rebounds.