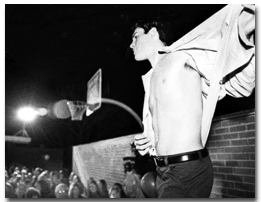 Kevin Klaus
Pi Kappa Alpha member John Barry entices the rowdy female crowd in his fraternity's benefit auction to raise money for the Bobbi Olson Memorial Fund last night. Twenty-eight PIKE members were auctioned off for $25 to $200 each, totaling about $2,500. Barry went for $150.
By Katie Clark
Arizona Daily Wildcat
Date auction held at fraternity house benefits Bobbi Olson Memorial Fund
Pi Kappa Alpha fraternity members were told to "take it off" last night at their first annual date auction to raise money for the Bobbi Olson Memorial Fund.
"I just broke up with my boyfriend," said Courtney Stevens, an elementary education sophomore. "I want to make him jealous. But it's for a good cause."
Pike auctioned off dates with 29 of its members to an enthusiastic, cheering crowd of more than 200 people. Some members also chose to strip to raise the amount of the bids, which totaled $2,500.
"Come on, ladies, it's for a good cause!" exclaimed Scott Coffey, the emcee for the event.
The fraternity also sold t-shirts to commemorate the event.
Olson's widower, UA men's basketball head coach Lute Olson, did not attend the auction because he was in San Diego on a recruiting trip. Assistant coach Josh Pastner attended in his place.
"(Bobbi Olson) was a wonderful, wonderful lady," Pastner said to the crowd, as he talked about her struggle with ovarian cancer. "Coach Olson is very honored. The frat should be commended for what they are doing."
Pastner also presented Pi Kappa Alpha President John Clark with a $100 check from Olson to start off the donations for the evening.
"Coach really wanted to be here," Pastner said.
Clark, who was auctioned off for $60, was enthusiastic about the opportunity for PIKE to be the first fraternity to have such a large event to raise money for the fund.
"We want to be the first to take a stand," he said. "This (philanthropy) is a big part of what we do."
Kim Hansen, a pre-business sophomore and a member of Gamma Phi Beta sorority, said she thought the auction would show those not in the Greek system that there is more to it than "getting drunk and having a good time."
"Nobody really thinks we do this kind of stuff," she said. "But it's easy to get people involved."
Bobbi Olson died Jan. 1 after a two-year struggle with ovarian cancer. The memorial fund was established by her family to go toward cancer research.
"Life is so precious as it is," Pastner said. "The more we can get to find a cure, the better."