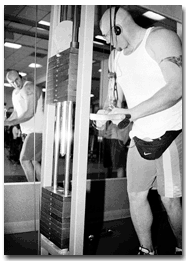 CHIHIRO NAGURA
Animal sciences senior Jorge Arvizu checks his form in a mirror yesterday at the Student Recreation Center. UA students are flooding the Rec Center in hopes to shape up for Spring Break.
Arizona Daily Wildcat
2 weeks not enough time for the 'perfect' form, fitness experts say
Ashley Meredith is sweating her Spring Break plans - literally.
"I only have two weeks until I go to Rocky Point, so I'm trying to work out as much as possible until then so I can feel comfortable in a bathing suit," said Meredith, a psychology freshman.
Meredith isn't the only student at the University of Arizona worrying about shedding clothes and exposing pale, winter flesh to the bright sun and sandy beaches of popular Spring Break destinations.
Although she did not have exact attendance figures, Jeanne Missey, associate director of fitness at the Student Recreation Center, said the gym experiences an influx of students at just about this time every year.
"The three to four weeks before Spring Break we have a lot of students coming in here to lay out by the pool or to take classes," Missey said. "Some want to get a tan before the break and some want to get in shape."
Sarah Hamlen, fitness coordinator at the Student Recreation Center, warns students against using excessive exercise as an instant solution to Spring Break bikini anxiety.
"Trying to go hard and fast is not the way to go about working out," Hamlen said. "It's hard on your body and your ability to function in daily life.
"Plus, you run a greater risk of injury which reduces your chances for success even more."
Some students, however, have a more laid-back mindset on getting body beautiful for Spring Break, which begins March 10.
Eric Hochman, a sociology senior, said he isn't worried about his body critics and Debbie Chase, a molecular and cellular biology senior, said time is never on her side.
"It doesn't matter what I look like," Hochman said. "Everyone's drunk anyway."
"It's too late to start working out now," Chase said. "It's always too late."
Hamlen offers students a realistic approach to getting in shape.
"Whether you want to run a mile or a marathon, start exercising regularly and give yourself time to progress," Hamlen said. "The likelihood you will achieve your goal will be better than if you do something quick and extreme."
Carly Berndt, a nutritionist at the recreation center's Fitwell Center, said students should ignore the diet hype and concentrate on the healthy, balanced eating.
"Quick fixes and the media play a role in the popularity of diets that just don't work," Berndt said. "You can starve yourself, you can cut all carbohydrates from your diet and just eat steak and bacon, but the weight you lose will only be temporary.
"If you want something effective, make sure you're eating enough to satisfy yourself, and make sure the foods you're eating are whole grains, fruits and vegetables."
After plans to Rocky Point fell through, Zoz Cuccias, a business freshman, decided to set her goals toward the future.
"I started working out so I figure I'll keep it up and make it a summer goal instead."
Hamlen agrees with a forward-looking mentality.
"Make this your start date for feeling better for the rest of your life," Hamlen said. "Try not to focus on Spring Break, focus on the long haul."