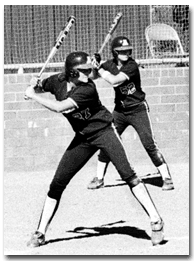 BEN DAVIDOFF
Junior first baseman Jennie Finch swings while freshman Mackenzie Vandergeest looks on last Sunday against Pacific. The UA softball team will play host to the Wildcat Invitational softball tournament this weekend at Rita Hillenbrand Memorial Stadium.
Arizona Daily Wildcats
Softball team tries to focus on tournament instead of next week's Oklahoma rematch
It would be hard to blame the Arizona softball team if they were looking past this weekend's Wildcat Invitational Tournament.
The Wildcats (15-0) host five unranked teams, beginning with Drake (1-4) today at 3 p.m., but it's a game next weekend against Oklahoma that has been circled in red ink since Arizona's schedule was released before the season.
Oklahoma eliminated Arizona 1-0 in the semifinals of last season's College World Series and went on to defeat UCLA for its first NCAA softball title. Arizona and Oklahoma flip-flopped in this week's USA Today/NFCA Top 25 poll, with the Wildcats moving up to number two and the Sooners (8-0) falling to the three spot. UCLA remained No. 1.
With the long-awaited rematch eight days away, Arizona's players say they're focused on taking care of business this weekend before concentrating on the Sooners.
That doesn't mean they're not thinking about it, though.
"We're not overlooking the other teams, but with the fact that they beat us last year, it would be nice to show them our stuff because we're competitive, we don't like to be shut down," senior catcher Lindsey Collins said. "We're excited to play them, totally excited."
Before hosting Oklahoma, Arizona must deal with five relatively unknown opponents this weekend. Besides Drake, the Wildcats face Connecticut (0-0) today at 5 p.m., McNeese State (5-4) and Southern Utah (4-6) tomorrow beginning at 3 p.m., and Florida (7-3) Sunday at 1 p.m. All games are at Rita Hillenbrand Memorial Stadium.
As has been the case thus far, the Wildcats will be led by their outstanding pitching trio of senior Becky Lemke, junior Jennie Finch and freshman Jenny Gladding. The three have a combined 15-0 record with a 0.31 ERA and 148 strikeouts in 88 innings.
Offensively, Arizona has experienced a balanced attack from most hitters in the lineup. Leadoff hitter Lauren Bauer is fourth on the team in batting average with a .471 mark. The senior also leads the team in runs scored (27) and stolen bases (13 in 13 attempts).
Senior Toni Mascarenas and freshman Leneah Manuma have provided much of the Wildcats' power from the third and fourth spots in the lineup, respectively. Mascarenas leads the team in home runs with nine, while Manuma is second with seven.
Mackenzie Vandergeest has provided a huge boost from the No. 7 spot in the order. The freshman leads the team in hitting with a .578 mark, and also ranks second in slugging percentage (1.089) and third in homers (six).
Coupled with the standout performances of Arizona's pitchers, this offensive production has allowed Arizona to rout nearly every opponent it has faced.
"We know that defense-wise, they get their job done, and on the other side we get our jobs done offensively," Collins said.