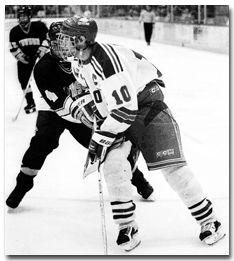 MIKE LARSON
Senior forward Paul Dorn fights for the puck with a Towson opponent Jan. 20 at the Tucson Convention Center. The Icecats can finish the season undefeated with a sweep against ASU tonight and tomorrow
Arizona Daily Wildcat
Seniors look forward to final home stand
The Arizona Icecats can finish the 2000-2001 American Collegiate Hockey Association regular season with an undefeated 17-0-1 record at home, provided they can beat the Arizona State Sun Devils in two games this weekend at the Tucson Convention Center.
After last season, No. 7 Arizona is hoping history does not repeat itself.
Last year, UA went into its final homestand of the season against ASU with a 15-0-1 record at home only to drop the first game of the series, 6-4.
The Icecats aren't underestimating ASU this year, especially after being handed a 7-4 defeat in Phoenix on Jan. 31.
"This will be a good test, because we didn't come off a very good series (against Colorado)," senior co-captain Ty Brush said.
"We didn't play a very good game against them in their barn. Definitely the fact that they beat us 7-4 is on our minds. We definitely have something to prove."
For Icecat seniors, the two games will serve as a chance to beat their in-state rivals while tuning up for the American Collegiate Hockey Association's tournament, which will take place at the TCC starting March 1.
"I don't like ASU very much," senior co-captain Marc Harris said. "Two games against ASU is a good test because they're a good team, but we're looking forward to destroying them and rolling on into nationals."
Senior co-captain Paul Dorn also believes the games are important as a tuneup for the season's final tournament.
"(We'll) just try to build up some confidence and concentration," he said. "Hopefully, we'll get two good games out of everybody - it's probably the best team I can think of to play the final two regular season games against."
Saturday night, the five Icecat seniors will be honored for their contributions to the Arizona program.
Dorn, Harris, Brush, senior forward Ed Carfora and senior forward Kyle McNeilance will all be honored by Icecat head coach Leo Golembiewski.
"It's going to be very hard," Harris said. "We're all best friends. We're not going to be able to play here next year."
Ty Brush cannot imagine a better way to have spent his college days.
"It's been a great four years, and I couldn't pick a better way to end my career than playing here," he said.
Paul Dorn, one of Arizona's best shooters, cannot believe how quickly his career as an Icecat has progressed.
"It's probably the best four years of my life," Dorn said. "Were pretty tight, the five of us (seniors). We sat down at the beginning of this year and it seems like that was a week ago."