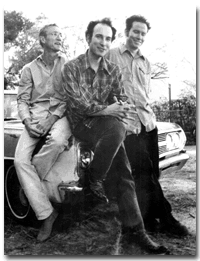 Teddy Morgan and the Pistolas - (from left) bassist John Penner, singer
By Phil Leckman
Arizona Daily Wildcat
Local "twang and bang" band releases two new CDs
Anyone wondering how to describe the sound of local rock trio Teddy Morgan and the Pistolas might want to start with someone other than the group's frontman.
"It's a question I'm asked a lot," said Morgan, whose trio celebrates the release of its latest album with a show tonight at Club Congress, 311 E. Congress St., "but I still don't answer it very articulately, that's for sure."
While the group's specific style may be hard to pin down - Morgan said the best description he's heard is "twang and bang rock and roll" - the Pistolas' gritty roadhouse sound suggests numerous influences, from blues to classic country.
Morgan, who recorded his first album back in 1994, began his career as a blues musician.
"I spent a lot of time listening to old '40s and '50s blues," he said. "So I started off mainly doing that and then all these country and soul influences came in, and some of the alternative country like Steve Earle and Son Volt. It's just a progression - I don't guide it, it guides me."
There is a harder side to the Pistolas as well, one that Morgan said surprised him at first.
"Before I was even a teenager I listened to a lot of punk - you know, the Clash and stuff like that," he explained, "and it's weird to be here in my late 20s and all of a sudden those influences start coming back. We're all like that in the band - we all had played a lot of blues gigs and different gigs and weren't even playing that much rock and roll. But now, oh man, we let it fly."
The Pistolas, which also includes drummer Chris Hunter and bassist John Penner, began performing three years ago in Austin, Texas, where Morgan had established himself in the local blues scene. Morgan relocated to Tucson only a year ago, after meeting his now-wife at a show here.
"After a few days we knew we were going get married," Morgan said. "It's kind of strange - neither one of us had ever had that happen before, but we just knew."
The Pistolas still haven't completely joined him in the Old Pueblo - drummer Hunter still lives in Texas - but Morgan said that distance has not affected the band's chemistry.
"With John and Chris, we're just all in sync," Morgan said. "Everyone brings something different to the table but we all know when it feels right."
This rapport with his supporting players allows Morgan to play fast and loose with his songwriting, often developing songs live rather than in rehearsal or the studio.
"I'll write a new one and we might work it up at a sound check or a dead gig on the road somewhere," Morgan explained. "I'll say 'it's kind of like this' and we'll just figure it out and play it live until we like it."
This brand of songwriting and recording is all over Morgan's new CD, Crashing Down, which the Pistolas produced and released without support from a label. He said it's his favorite record so far, and credits the spontaneous give-and-take between his bandmates with the record's success.
"Sometimes your first instincts can be the right way to do it," Morgan said. "You can capture something without thinking about it too much."