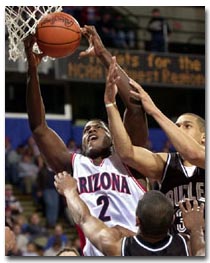 Associated Press
Arizona's Michael Wright (20) grabs a rebound in front of Butler's LaVall Jordan and Joel Cornette (right) during the second half of the NCAA second round yesterday in Kansas City, Mo.
Arizona Daily Wildcat
Cats advance to Sweet Sixteen after blowing by Butler, E. Illinois
KANSAS CITY, Mo. - Arizona concluded a weekend full of upsets by doing something that teams like North Carolina and Iowa State couldn't - standing pat.
Shaking the Arizona first-weekend curse of the past two years, the Wildcats outlasted Butler yesterday afternoon by demonstrating why they are a No. 2 seed and the Bulldogs were a No. 10.
While emotion seemed to carry the Bulldogs through the first half, in the end the Wildcats' strength, quickness and athleticism would spoil this Cinderella story-in-the-making.
And while so much is made of the offensive explosiveness UA possesses, it was Arizona's defense that led to a 73-52 victory and a ticket to the Sweet Sixteen in San Antonio.
"Today was one of the best defensive games that we've played throughout the season," senior forward Gene Edgerson said. "Guys were just determined to not let their man score, especially when we were down. There was a sense of urgency because nobody wanted to lose this game."
Butler looked in the first half as if it was going to continue the upset theme of this year's NCAA Tournament, as it led UA until about two minutes before halftime.
But once the Wildcats secured the lead, the storybook was closed.
"Coach didn't have to say anything to us at the half because we knew in our hearts that we didn't play the best 20 minutes that we could play," said junior forward Michael Wright, who finished with 14 points and five rebounds. "In the second half, we were denying passing lanes, we were fronting the post, we were doing everything we needed to win."
The Wildcats went on an 8-0 run just before the half to stretch their first lead to 30-26. After the half, Arizona buried Butler with a 17-2 run that lasted nearly eight minutes.
"They really drilled us down the stretch in the last game we played against them, so I am not really all that surprised that they did it again," Butler forward LaVall Jordan said. "They have so many weapons on that Arizona team that it is really the case of picking one to finish the execution.
"We kept it close for awhile, but I think this team has the ability to nail anyone else in the bracket."
UA players and coaches agreed that the Wildcats depth would eventually win the game.
After shooting 45 percent in the first half, the Arizona defense limited the Bulldogs to making just 33 percent of their second-half field goal attempts.
"Whenever we lock down defensively, our team really starts to feel the flow on the other end," Jefferson said. "If we get a steal or whenever we get a block, then it doesn't allow their defense to set up. Our defensive pressure makes way for our offense, and that really disrupted Butler's game plan in the second half."
BU head coach Thad Matta was impressed with his team's ability to shoulder up with the No. 2 team in the nation but was befuddled by UA's talent after the break.
"It seemed like they had seven, eight or nine guys out there defending at times," he said. "We were trying as hard as we could to keep them off the glass, but they are just so big and well coached. They know when the ball was going to be shot, and we just didn't have any answers."
As a result of not finding open shots, the BU players resorted to launching errant, last-second three-point attempts. After the break, Butler made just 2 of 16 threes.
While they spent much of the first half running down court trying to invigorate their fans, the Bulldogs players succumbed to the stronger, quicker and deeper Wildcats. But Edgerson said that the Bulldogs were as spirited a team as any he's played against all season.
"I don't ever expect the lower seeds to ever just come out and throw in the towel," he said. "They have been playing basketball for the most part of their lives, just like you've been playing basketball all your life. It's a game, and their competitiveness was great."
The Wildcats beat Butler 72-60 in Tucson in December, although it was a four-point game with 90 seconds left.
Edgerson was concerned before the game that this team was going to once again feel the effects of the first-weekend jinx because of the Bulldogs' emotional drive.
Until this season, none of the five starters had advanced past the second round of the NCAA Tournament.
"They knew they had a chance, but realistically they didn't have a chance because we weren't going to let them beat us," Edgerson said. "Even though they are a superb team, there was no way that we were going to die today. There was no way we were going to roll over and give them a victory."
Sophomore guard Gilbert Arenas is glad to get the early-round-exit monkey off of his back.
"Knowing that we've finally made that step, it feels really good," he said. "I can't wait to go to San Antonio, but right now we have to prepare and party."