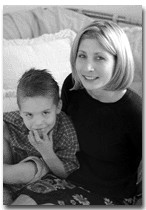 RANDY METCALF
UA graduate TA Gretchen Urkov talks about her financial burdens while her son, Riley, plays computer games Tuesday afternoon in her apartment. Urkov, who until recently couldn't afford the computer, is one of the many graduate teaching assistants who believes the UA does not pay them sufficiently.
By Katie Clark
Arizona Daily Wildcat
TA laments financial constraints of supporting a family on $12,300 a year
Gretchen Urkov sits in the living room of the small two-bedroom apartment that she shares with the man in her life - her five-year-old son, Riley.
"I'm five and a half, Mom," Riley says sternly, momentarily taking his eyes away from the bouncing characters and colorful graphics of the game he plays on the computer, something that Urkov has just recently been able to afford.
Urkov is one of the many graduate teaching assistants at the University of Arizona who says the UA does not pay its TAs enough money to support themselves, let alone a family.
Urkov, 28, is an agricultural education graduate student and teaches two undergraduate classes, which pay $12,300 per year, putting her at the high end of the TA salary spectrum.
"It's hard to believe that that's the high end," she says, adding that her salary works out to about $950 per month.
Urkov says she became a teaching assistant after one of her professors asked Urkov to help her out.
"We really clicked," Urkov says. "It was a great opportunity to get my masters (degree). With more education, I have more of a chance to pick the job I want."
"And if I need to take a day off because Riley is sick, I can do it," she adds.
But she says her salary just does not get her by every month.
"What U of A says is enough is really not," she says.
She then proceeds to rattle off their monthly expenses: rent, $574; groceries, $300; utilities, $175; tuition for Riley's private school, $300; credit card payment, $400 - plus her own tuition, the car payment, insurance payment, clothes for Riley, and anything else that happens to come up.
The expense of having to support herself, plus Riley, caused Urkov to take out a loan for $30,000 for her four years of both undergraduate and graduate education at UA.
Urkov, who did two years of undergraduate study at UA and is in her second year of graduate study, says she would have rather gone to another school that could have paid her more money.
"I wish I could have gone somewhere else," she says. "But Riley's family is so close by."
The apartment she shares with Riley is more than 20 miles away from campus, which means at least a half-hour drive every day - if traffic is light. But at 3:30 in the afternoon, when Urkov gets done with her seven-hour day at school, traffic on East Speedway Boulevard is thick with rush-hour commuters.
Living closer to school, she says, would mean an extra $100 to $150 per month out of her pocket for rent, something she says she simply cannot afford.
"It's much cheaper to live out here," she says. "Plus I didn't want to have Riley live so close to the university."
Urkov says that most of her school expenses have to be charged on her credit card, causing most of her financial burden.
"Credit cards," she sighs. "That's where it becomes a problem."
She also said that Riley's needs take priority over anything else - including herself.
Riley, who has the reading comprehension of a fifth grader, goes to a special school that grades students based on competency as opposed to a standard grading scale - something that Urkov is proud of, but also creates an extra expense.
"There's no room for any kind of fun stuff," she said, glancing at Riley, who is concentrating on changing the disk in the CD-ROM drive to play a new game.
"Getting Riley new shoes and stuff like that has to take priority over getting anything for myself," she says.
Having her registration fees, which total about $2,400 per year, waived would have helped considerably in relieving some of her financial pressures.
"It would be a cushion to get us through the summer," she says, imagining aloud what it would be like not to have to worry about money so much.
"We could also have an emergency reserve," she adds, saying that she had to pay $500 in car repairs recently and also had to pay for surgery on her hand.
Urkov is not alone in her basic concerns. Several TAs from around the state presented their complaints before the Arizona Board of Regents at their meeting March 2.
Samantha Andrus, a TA in the English department at Northern Arizona University, echoed many of Urkov's sentiments.
Andrus, who makes $1,000 per month teaching two lower-division English classes, is a single mother of three children.
In her speech to the Board, with her children standing by her side, she fought back tears when explaining her need for more money.
"I am a single mother of three children," she said, wrapping her arms around them. "Lucky them, their mother's aptitude is to teach."
In order for the fees to be waived, though, it would cost an extra $5 million - money that the Board does not have in its pockets to give, said UA Provost George Davis.
Discussions are taking place, though, and Urkov said she hopes the results will be positive for TAs in situations like hers.
"It would be nice not to feel so overwhelmed," she says.