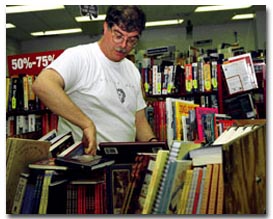 MICHELLE DURHAM
Octa Leigh, general books buyer for the UofA Bookstore, packs Thursday in preparation for the move to the new bookstore. The bookstore opened yesterday in the new portion of the student union.
Arizona Daily Wildcat
Customers able to find store, but some say location is inconvenient
The UofA Bookstore opened at its new location directly behind the old store yesterday after five years of planning, a year and a half of construction and a three-month delay.
Bookstore staff packed up and moved the store's inventory and other effects over Spring Break in preparation for the opening, which Frank Farias, director of the U of A Bookstore, called "smooth."
"It went beautifully," he said. "The staff worked very long hours last week, very hard."
Gilbert Davidson, assistant project manager for the new student union, said there are some minor "last-minute" details to attend to - such as ensuring that light switches can be found and are working - but the facility is fully functional.
The steady stream of customers that filled the store was a new sight, Davidson said.
"It was weird seeing people (shopping) in the building," he said. "It's been so many months seeing just construction workers in there."
Although the store opened for business yesterday, the formal grand opening will wait until mid-April, once the staff and customers have gotten used to the new location, Davidson said.
The bookstore was originally set to open over winter break, but logistical problems with the fire-alarm system delayed the move until March.
Another delay - a minor problem with the insulation on the fourth level - caused organizations in Student Programs to push back the moving date by three days, but they are settling into their new offices now, Davidson said.
Farias said watching the new store come to life was rewarding and the timing, though later than originally planned, still has a positive aspect.
"It's here, and it's just in time for the basketball tournament," said Farias, saying the store will sell more Wildcat merchandise now that the men's basketball team has advanced to the Sweet Sixteen round of the NCAA Tournament.
Farias said more changes lie in the bookstore's future, including an expansion, which will create more space for a textbook sales floor. Textbooks are currently located in an area which will become warehouse space.
"Now we'll sit back and start analyzing everything again," he said.
Students shopping in the new facility yesterday agreed that people will have to adjust to the new store, but even with changes in location, the store is successful for now.
"It needs some character still," said Erin Patterson, a business economics junior. "Like anything new, it takes some getting used to."
"It's a little difficult to get to, but that'll change when everything gets fixed," said Geoff Duquette, a mechanical engineering sophomore. "Seems a lot more organized and spacious than the other one."
Jeremy Duda contributed to this article.